Hunting and Fishing News & Blog Articles
Stay up-to-date on hunting, fishing and camping products, trends and news.
1 minute reading time
(212 words)
Outdoor Edge | RazorMax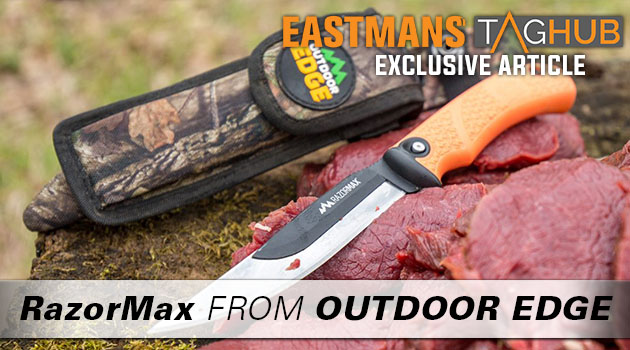 For years we have been using the Outdoor Edge line of knives in the field, especially their replaceable-blade folding knives. You've probably also seen the various knives from Outdoor Edge in this replaceable-blade family in our subscription offers. All of these have been folding knives – until now.
For 2019 Outdoor Edge added to their line of replaceable-blade knives to include the RazorMax. Not only is this a fixed blade knife and replaceable-blade knife, but it also has the option to interchange the 3.5" drop-point blade from their popular RazorLite series with a 5.0" fillet/boning blade. This is a complete replaceable-blade system knife for virtually all of your hunting, fishing, and culinary needs.
The blade replacement system is the same as their RazorLite knives, using the patented RazorSafe technology that allows you to replace the blades without risk of injury by the simple push of a button. The blade holder is steel and is black oxide-coated for durability and good looks for more years than you'll be alive to use it.
CLICK HERE TO READ THE EXPANDED ARTICLE ON THE RazorMax KNIFE FROM OUTDOOR EDGE
The post Outdoor Edge | RazorMax appeared first on Eastmans' Official Blog | Mule Deer, Antelope, Elk Hunting and Bowhunting Magazine | Eastmans' Hunting Journals.
---