Hunting and Fishing News & Blog Articles
Stay up-to-date on hunting, fishing and camping products, trends and news.
12 minutes reading time
(2332 words)
Our Experience Renting Out Our Camper for the First Time
For the past six years, my husband and I have RVed all over the country. We've also owned four different RVs in that time. But, I can honestly say that we've never considered renting any of those RVs out…until recently.
We had heard about other RVers who were making extra money on their campers while they weren't using them by renting them out. While we thought it was a brilliant idea, the main reason we didn't rent any of our RVs was because we were using them so much. In fact, we lived and traveled full-time in our first two RVs for over two years. Even after full-timing, we continued to spend more months out of the year on the road than at home, so our RVs rarely sat in storage for much longer than a couple weeks.
Recently though, after starting a family, we downsized to a travel trailer and now prefer to enjoy taking shorter camping trips close to home when the Colorado weather allows. So after planning out our camping adventures for this summer and fall, we saw several weeks on the calendar where our camper would just be sitting on our property.
We've made so many special memories throughout our years of RVing and are always encouraging others to get out there and adventure as well. However, we know that not everyone can justify the cost of buying and owning an RV if they only use it once or twice a summer. For those people, renting is an excellent option and we figured it would be a win-win for us to make some extra money while allowing other people to experience the joy of RVing!
Of course, we had our fears about renting out our camper. What if the renters destroy it? How will the insurance work? Can you really trust strangers to take good care of your camper?
Ultimately, we decided to give it a try and see how it went. If we learned anything during our time as full-time RVers, it was the value of experiences and memories over your belongings. We also learned that most things that break on an RV can be easily repaired. 
If you're on the fence about renting your RV out, too, I hope sharing our experience helps you make the right decision for you.
We had heard of several rental platforms that allow you to list your RV and rent it out privately to people in your area. For our first experience, we chose to list it solely on Good Sam's new rental program at RVrentals.com. We've been Good Sam members and have used their insurance for several years and knew we could trust them as a reputable company in the RV industry since 1966. 
We also liked that Good Sam only takes a 5% commission fee, whereas other rental platforms I looked at were unclear about their fees. Additionally, it gave us peace of mind to see that our RV would be covered with up to $1 million in liability insurance and that they also offer 24/7 roadside assistance.
The whole process of listing our camper on the website only took about an hour. In fact, I did it from my phone while sitting on the couch watching TV. Once you've created an account and set up your profile, the website will guide you through the whole process of listing your RV. Below is a screenshot to show you the eight steps that are required.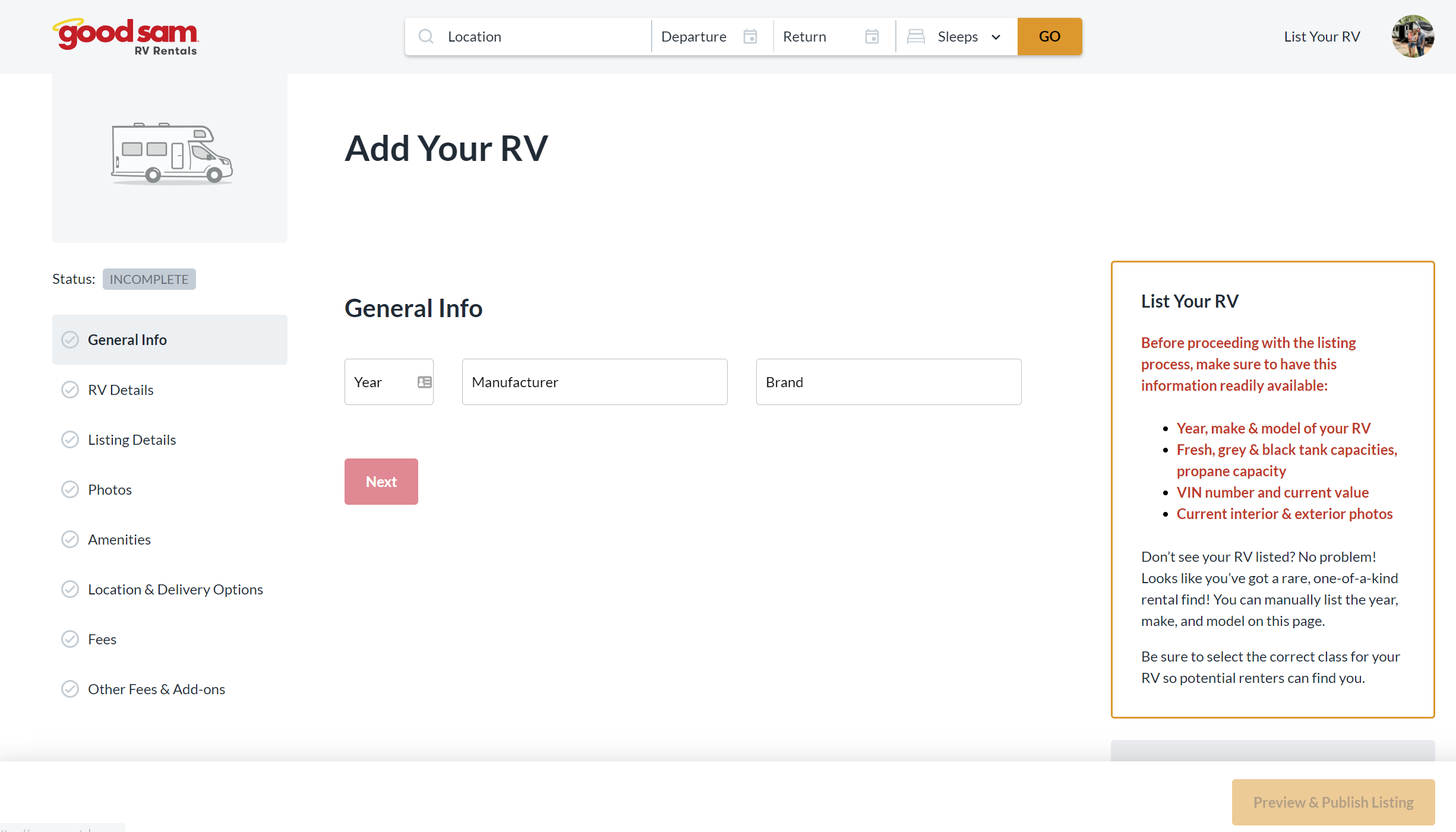 You'll see the helpful note on the right of the screen that tells you what information to have readily available. That will certainly save you time.
It was also helpful for me to look at other similar listings in my area to help me determine what price I should list our camper at, the supplies we should provide renters, etc. The most important part of your listing, though, is making sure you take the time to create a detailed description and take high-quality photos. Good Sam will offer tips for this as it guides you through those steps of the process.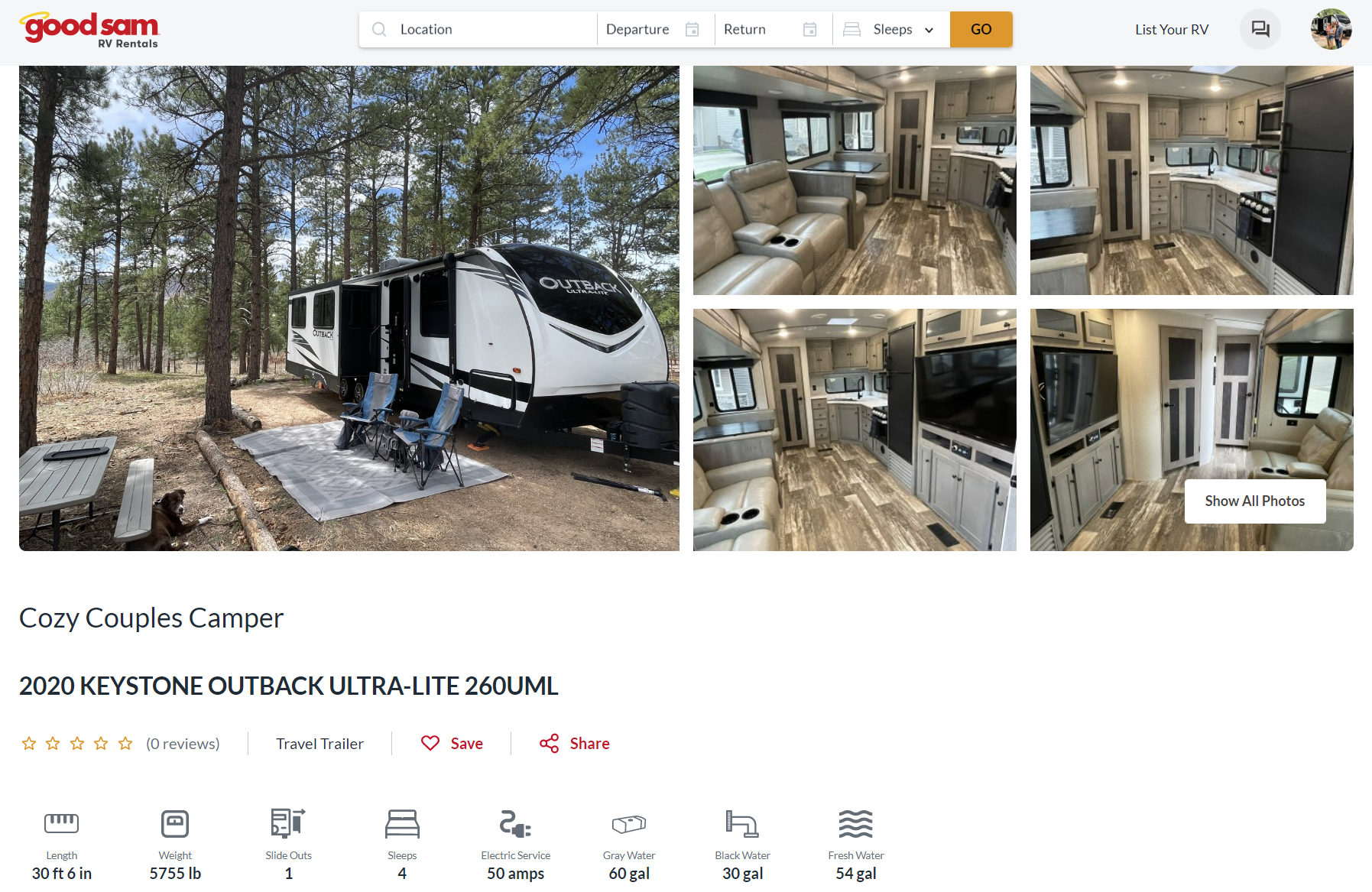 The same day our listing went live (it took about 24 hours for our listing to be approved and published), we got our very first booking request! I was so shocked and excited that it happened so fast. 
I was able to review our potential renter's profile and message him directly right away. We exchanged messages regarding his trip details and his experience with towing. We then had the option to either approve or decline the rental. After clicking approve, Good Sam began verifying the renter. It made us feel so much better knowing that they check identification and even require a phone conversation with the renter before allowing a reservation to be complete. 
Shortly after, I got the official confirmation that the rental was all set. I also appreciated that Good Sam emailed me reminders about the rental and linked directly to the forms that are required to be completed before and after the rental. I never had to worry if we were forgetting something. They even send text messages so you won't miss the email reminders if you aren't great about checking email.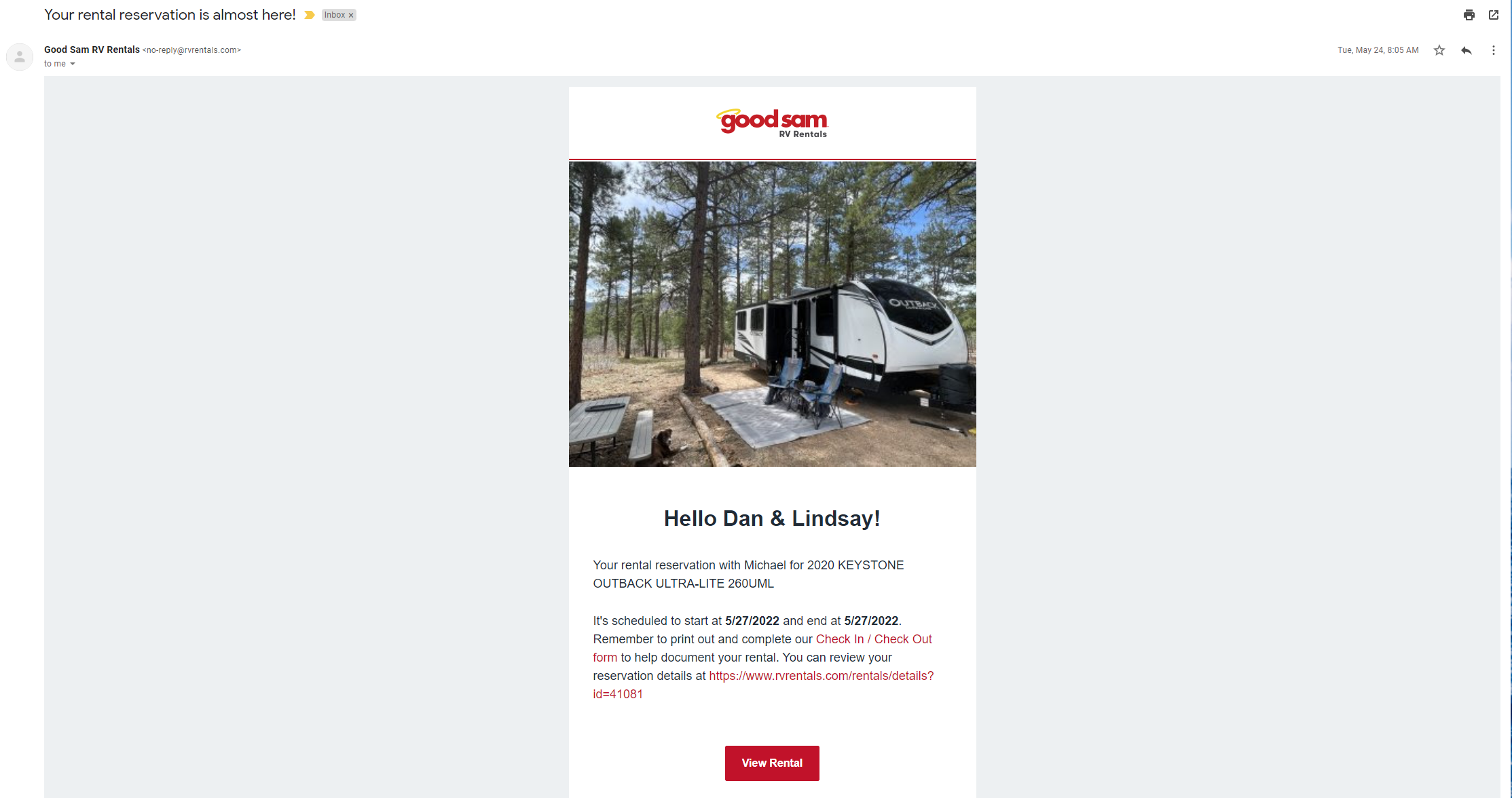 Our first renter was taking the camper for a quick three-day weekend trip less than an hour from our house, so it was the perfect trial rental for us. I chose to exchange cell phone numbers with him for easier communication. This was especially important during the rental period so he could reach us quickly in case anything came up.
He picked up the camper from our house so we didn't have to go out of our way at all. We just made sure the camper was ready to go before he arrived. We stocked it with the items we said we'd provide in the listing, such as linens, kitchen items, etc. (you choose what you are willing to provide, if anything). We also ensured it was very clean inside and out, and checked to make sure the tanks were empty and that everything was working properly.
We reviewed the required forms ahead of time to make sure we understood the process. Once the renter arrived for pickup, we walked him through the camper and showed him how everything works. 
We instantly felt our fears start to disappear after meeting him. I think it's natural to have an irrational fear of who may show up to rent your RV and you automatically create an image of some scary person who is going to trash it. But, he was just a friendly man wanting to take his wife out camping with some friends. It helped that he had owned a camper before and had plenty of experience towing and operating one.
I won't lie, it was a little unsettling watching him drive off with our little "home on wheels", as we call it. But, once he was out of sight, it was out of our mind and we went about our weekend at home hardly even thinking about the camper and worrying about what could go wrong. That's what insurance is for, right?
It was such a relief when our camper was back in our possession in the same condition it was left in. In fact, when we stepped inside, it looked like they didn't even use it! They had cleaned up after themselves, even though we require an additional cleaning fee with each rental. 
We walked through the camper with the renters and made sure everything was working and in the same condition that it was prior to the rental. They pointed out two minor things they noticed that needed repair inside the camper. A panel above the slide, which was only there for decorative purposes, and a seal along the wall in the bathroom, were both coming detached and needed to be glued and nailed down. We were able to easily make the repairs ourselves and appreciated the renters' attention to detail. 
As I mentioned, we definitely had our fears in renting our camper out. But overall, it was a great first rental experience. The renters had a great time and it truly felt good to see that they got to enjoy the camper versus it just sitting idle. It was also awesome to see almost $400 in our bank account just days later.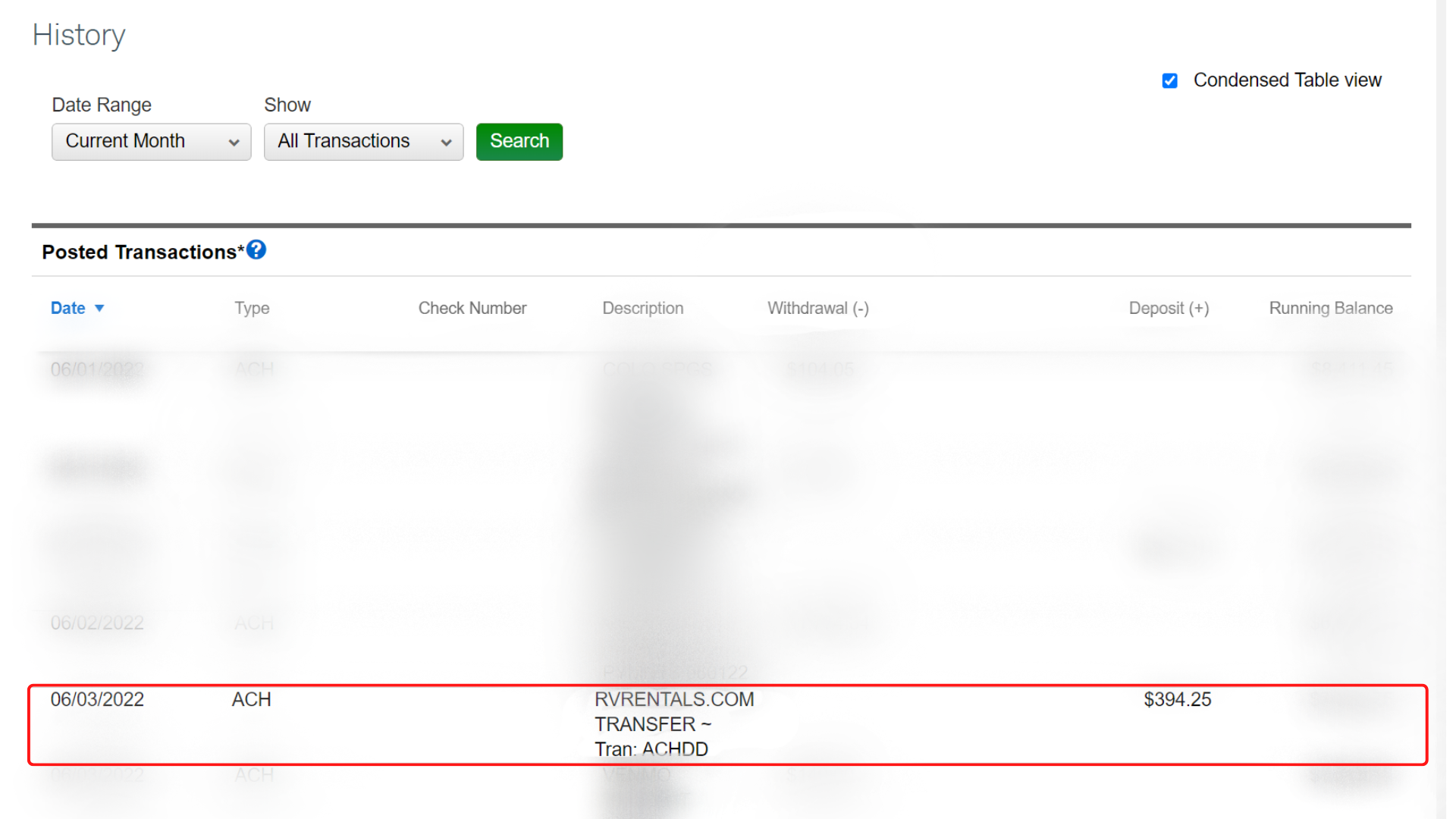 The whole rental only required about two hours of our time. It took about an hour to communicate and coordinate with the renter and do the walk-through before and after the rental. Then it took about another hour to clean the unit, but you could certainly pay someone to clean it for you if you prefer. So, it was definitely worth it from a time-for-money standpoint. 
Thankfully, nothing went wrong with the RV while it was in their possession, but even if it did, we would've been covered. Things can go wrong with the camper even when we use it so there really is no difference. 
Therefore, the answer is…yes, it was worth it, in our opinion!
We actually already have rented our camper out again! A couple weeks later we received another rental request and having such a good experience the first time, we decided to try it again.
Our second rental experience didn't go quite as smooth, but not because of anyone's fault. We received a text from the renters saying that none of the camper's electrical outlets were working. 
Unfortunately, their camping trip was impacted by this electrical problem. And it required a bit of time out of our weekend to communicate with them regarding the issue and trying to troubleshoot it. We couldn't fix the electrical issue for them so they had to go without power for their trip. 
We felt terrible about the situation, and while they had a great attitude and made the most of their camping trip, we chose to offer them a partial refund for the inconvenience. We felt it was the right thing to do, but it was never required by Good Sam. Things can just unexpectedly go wrong and both parties need to be willing to be flexible and work together to resolve any issues.
Thankfully the electrical issues were resolved within a couple days by taking our camper into Camping World's service center. Again, it was nobody's fault, the power was working fine and then it wasn't and that can simply just happen from time to time.
If after reading our experience, you feel ready to list your RV for rent through Good Sam, here are a few tips:
Thoroughly check your unit before a rental. In fact, check it twice: well in advance before the rental to give yourself plenty of time to make any necessary repairs and again right before the renter picks up because you just never know what issues can come up. In our case, we could have never anticipated issues with the electrical system. While we checked the power, we didn't check to ensure that every single outlet was working. We suggest checking every single inch of your RV to avoid having issues come up during a rental. Do a practice walkthrough and take notes of everything that is necessary to know about your camper or RV before your renter's scheduled pick-up. That way you can then type up and print out a paper copy of everything you cover. This will ensure that you don't forget to go over something and also gives the renter the ability to refer back to instructions if needed during their trip. Have very clear expectations with your renters on how to handle issues that may come up. Ask the renter not to troubleshoot any issues with the RV on their own without your consent. We didn't necessarily have this issue, but now that we've had a problem come up during a rental, we will now make it very clear with future renters that they need to contact us immediately when a problem arises. It may stop small issues from becoming big ones!  Provide pick-up and drop-off windows that work best for you and your schedule before approving a rental request. We found that it can be hard to coordinate, especially during holiday weekends. It will save everyone time and a lot of back and forth if you set the times upfront. Then it is up to the renter to make that time work. Block off a period of time on your availability calendar between rentals and when you plan to use your camper in case you need to do repairs. We had our electrical issue come up just days before we were planning to head out on a camping trip ourselves. We barely had enough time to get it repaired, but would have been bummed if we had to miss our own camping adventures due to an issue from a rental. Give yourself some flexibility to ensure you get to use your camper whenever you'd like or you'll likely end up resenting the rental process. 
If you're considering listing your RV for rent, I'd encourage you to go for it! Just remember that you are in full control of when you rent it and who you rent it to. In fact, here is a direct quote from Good Sam's rental website: 
"At the end of the day, we want owners to feel comfortable with whoever rents their RV. That's why owners have the final word on all rental agreements, including who rents your RV. We encourage communication between the renter and owner during the reservation process to make sure rental expectations are clear before it's time to hand over the keys." 
If you have more questions or concerns about renting your RV, check out the helpful FAQ's that Good Sam has provided on the website. Or if you have comments or questions regarding our experiences shared in this article, feel free to leave them below. 
The post Our Experience Renting Out Our Camper for the First Time appeared first on Good Sam Camping Blog.
---