Hunting and Fishing News & Blog Articles
Stay up-to-date on hunting, fishing and camping products, trends and news.
11 minutes reading time
(2295 words)
How to Rent the Perfect RV (with Good Sam RV Rentals)
Renting an RV allows you to experience many of the perks of RV life without buying or maintaining an RV, which can be a daunting first step. Renting also provides an easy entry point for those considering an RV purchase who want to learn the ropes before investing. Whether this is your first time RVing or you want to use the opportunity to scope out a new type of rig, Good Sam RV Rentals connects renters with helpful owners.
But just because the barriers to entry are fewer when renting an RV versus buying one, planning a good trip requires some forethought to know what to expect and to find an RV that best fits you and your family and friends. Choose the right RV — and the right destination — and renting an RV can be the easiest, most affordable way to experience the RV lifestyle on your own.
We've broken down the process into three primary steps.
Choosing an RV Choosing a destination Taking the trip
Choose an RV and a destination based on what you need, not what comes up first in the search. Doing so requires general knowledge about RVs to know which will be best for you and where to take it.
But before you choose an RV, how does the process work?
What is peer-to-peer RV rental?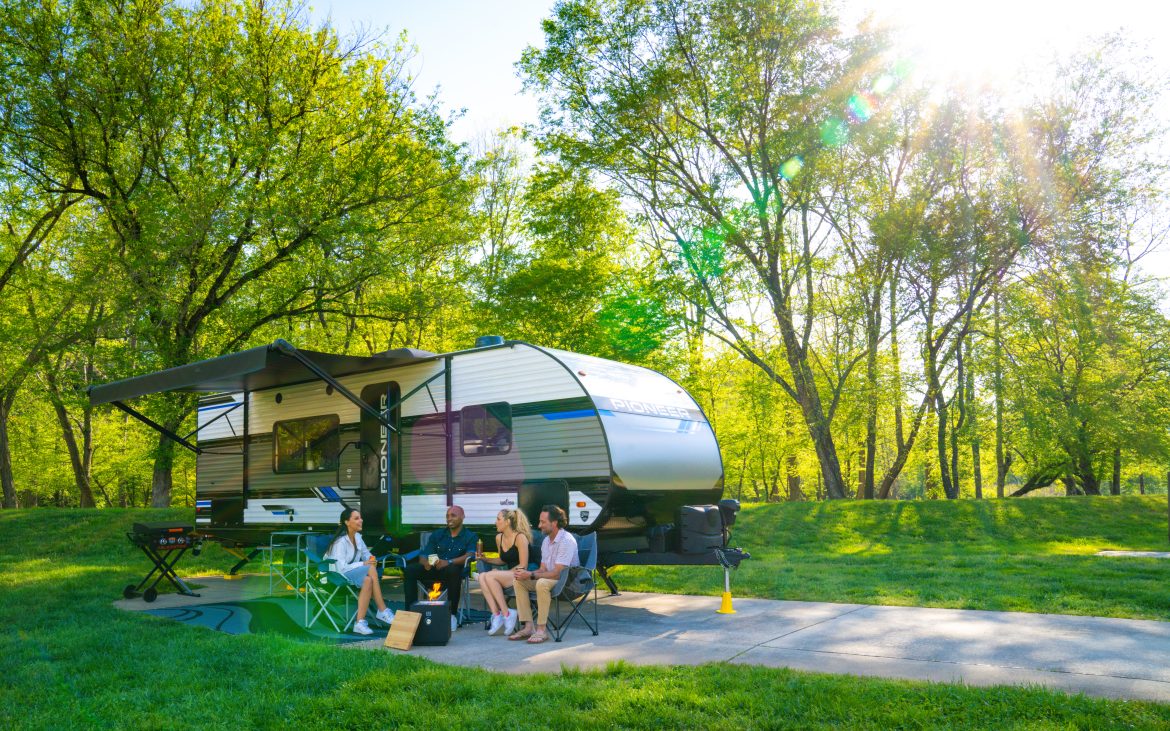 Courtesy of Camping World
Historically, renting an RV was similar to renting a Uhaul or a vehicle. You contacted the corporate RV rental provider, who provided a limited, standardized series of options for your trip. Not only did this limit choices, but the price was fixed, too.
Peer-to-peer rentals changed the nature of RV rentals. Now, RV owners can rent out their units using an RV rental platform to host and publish their listings to the public. This also means RV owners can dictate how they want to rent. Some of these options include:
Delivery or stationary rental Range limitations Destination type limitations (No festivals, etc.) Pet friendliness Amenity use
This means some owners will have specific terms renters are required to follow. This will be an essential step in your search for the perfect rental. So, identify the types of concerns you might have, whether you are traveling with pets, if you have the ability to tow, or if your preferred destination is beyond the range limits of the owner. Once you have that list, it's on to choosing an RV.
Choosing an RV
RVs are either motorized or towable, and you'll find both on Good Sam RV Rentals and other RV rental platforms. 
Motorized RVs are further classified into three categories, from smallest to largest: Class B, Class C, and Class A.  Towables are primarily classified as travel trailers, fifth wheels, or toy haulers, and these are differentiated by how they are towed and their size. 
If you're new to RVing, towing an RV can sound intimidating. Conversely, a massive Class A motorhome might be overkill and also challenging to drive. Before either option overwhelms you, decide if it's a requirement for you to drive the RV. Otherwise, at the risk of limiting your options, this might be part of the "choose your own adventure" when you choose to have your rental delivered. 
If you are willing to explore towing or driving a motorized RV, the next questions surround your towing ability, the size RV you need, and what extras you might want to include.
What type of RV is the most rented?
Out of all RV options, renters tend to prefer towables. But don't let that pigeonhole your decision-making. For example, you'll find all sorts of RV types when looking through the selections hosted by Good Sam RV Rentals. Towables are excellent for delivered rentals when the travel trailer is dropped off at a location and picked up after the reservation dates by the owner — leaving the towing to them. And small travel trailers are ideal for renters with limited vehicle towing capacity.
Towables like travel trailers provide the full conveniences of an RV experience that a Class B might not include. And on the other side of the spectrum, they aren't as cumbersome as a Class A motorized RV.
And when it comes to capacity, travel trailers can comfortably fit an average-sized family or group of friends, which is another factor that might put it ahead of other convenient RVs like Class Bs. But, again, the most popular doesn't mean it's right for you and your travel needs, so before you choose a towable, take stock of your needs.
How do I choose the best RV for me?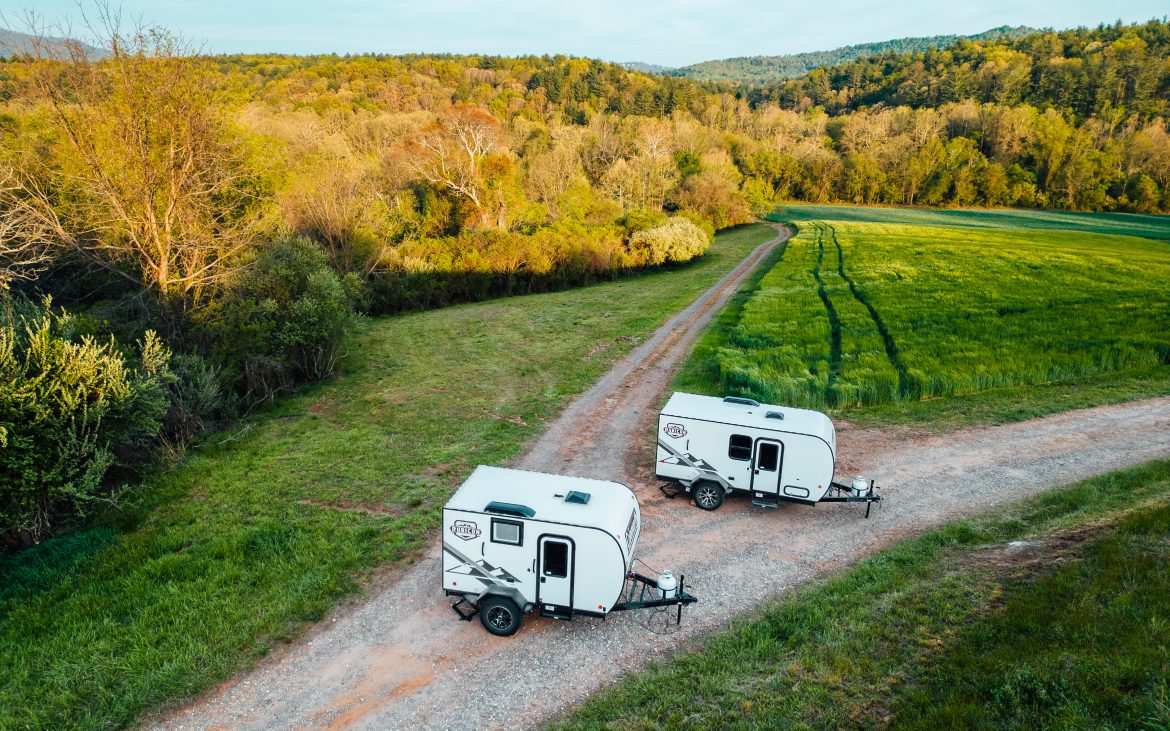 Consider practicality, comfortability, and overall experience when choosing an RV type to rent. How many people do you need to fit in? Do you have the capability to tow an RV? Are there any amenities or features you require, like air conditioning? And, lastly, what type of trip do you want to take? For example, don't spend the money on a massive RV with many features if you plan to hike for most of your trip or if you won't spend much time inside.
Capacity
How many people do you want to sleep comfortably? That's a good place to start. But don't forget that you also need to be able to provide seatbelts for all passengers who will be transported in the RV. 
But if the others are tagging along and driving separately? No problem. You'll just need to assign couches and beds. Note: some RV floorplans are designed to sleep more people, even in a similar square-footage RV. Inquire from the specific listing of the RV's capacity. 
Class A – Comfortably sleeps between 4-8 people Class C – Sleeps 6-8 people Class B – 1-2 people Fifth Wheel – 4-8 people Travel Trailer – 2-8 people
Towing Capability
Are you considering towing a rental RV? There's no question this is often a more affordable option because you avoid the delivery fee—but the most significant questions are a.) your towing capability and b.) your experience towing a trailer. 
How do you know what your vehicle can tow? First, know how much the trailer weight is. The rental listing should provide this information. If not, check the make and model information to look up its weight. From there, look up your vehicle's towing capacity with the Camping World towing guide. This will help you decide what towable you can manage. 
When it comes to your experience-level towing a trailer, it's never a bad idea to touch up on some standard, basic towing tips. This goes beyond just driving with extra weight and footage. You must take precautions before leaving, ensuring you have the right supplies for a trailer once you get to camp.
Choosing a destination 
As you decide the type of RV you think might be best for your trip, consider if your location may change the type of RV you rent. Not every destination can accommodate every RV size. And RV owners can be particular about where you take their RV. 
For example, some rental owners will have requirements about where you can take your RV rental. This comes down to security and risk factors. Two out of the three stipulations on the Good Sam RV Rentals listing page are location related: tailgating and festival-friendly.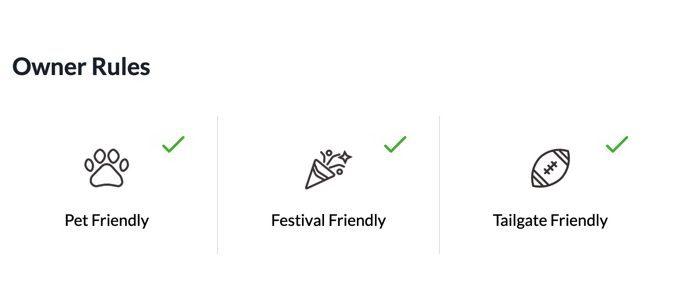 What is the rule of 3 for RVing?
Beyond an owner's stipulations, there are some common rules to follow when determining how far to travel with an RV and how much time you should give yourself to set it up in the daylight. Enter the "rule of three" for RVing:
Travel no more than 300 miles in a day Arrive at your location no later than 3 pm Aim to stay at a location for at least three days. 
While this won't apply to every RV rental — or every trip, for that matter — it's a helpful way to remember often-forgotten parts of the experience: driving fatigue, setup time, and making it a meaningful trip. 
So be conscientious about how far you have to drive in a day to give yourself plenty of time for setup and tear-down and also to ensure you enjoy the destination once you arrive. Otherwise, it's a lot of energy, time, and money potentially wasted.
Finding a campground
If you've secured an RV and a general destination (like a national park or attraction), you need to also make sure you find a campground, which, these days, is easier said that done. In the last four years, finding an available campsite has become five times harder. 
Camping has become more popular — as has renting an RV — so that means finding a campsite can be competitive. Our best advice? Plan ahead. Try to book your campground far in advance. RV owners understand these difficulties and will be able to schedule the rental in advance as well. When you schedule a reservation with an owner on Good Sam RV Rentals, you will receive messages that notify you of your upcoming trip, so it's easier to manage. 
Our second-best advice? Find an RV owner who can recommend places nearby. Remember, RV owners are campers, too, and they are often willing to offer locations they know and trust, and that may be available.
Campground requirements
When choosing a campground, make sure that their campsites can accommodate the size of your RV rental. This is why having all the information about your rental before booking a campground is especially important. Ask questions about hookups and electricity availability, and whether they offer Wifi and other amenities. 
And does the campground have any important rules or regulations? For example, some campgrounds maintain a ten-year rule, meaning RVs older than ten years are not allowed in the campground. Are there restrictions in place that aren't in line with what your group wants from a campground?
For more advice on finding the right campground, check out our complete guide here. 
Taking the trip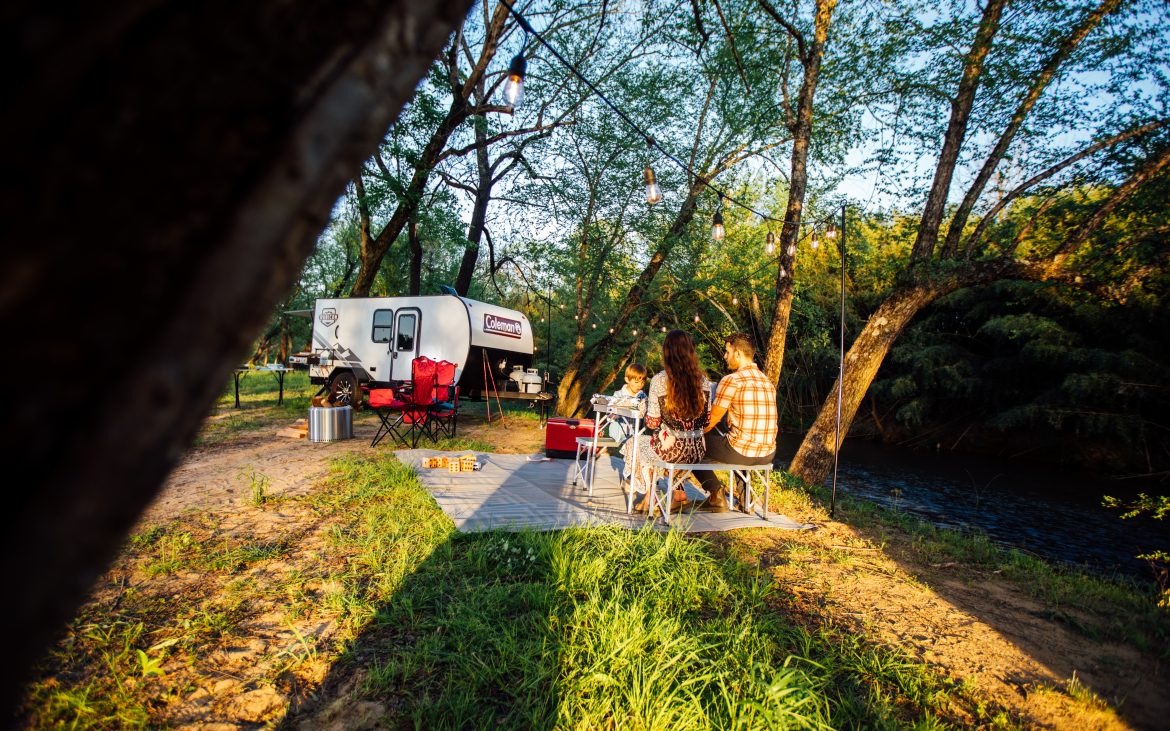 Lastly, your trip will require planning that goes beyond just finding an RV that works for your group and finding a location that makes sense for the rental owner and where you actually want to go. There's a learning curve to operating an RV, and you need to understand the ins and outs of daily operation. From dumping to hookups to knowing which highways you can take a tall RV — you'll need to factor for all steps involved. 
RV dumping
RVs with one or more bathrooms will require grey water and black water dumping. If you haven't done this before, take some time during the transfer with the owner to discuss all the requirements. Not all RV owners will require you to dump before returning, but some may charge a fee or penalty. 
To learn more about dumping, check out our complete guide here. But use dumping as an example: ask the owner any other questions you have about operating the RV. They can speak to the specific requirements of that exact RV. 
Hooking up and other campsite requirements. 
As with dumping, you must know and perform the standard requirements specific to the type of RV you're renting. These steps can include leveling, hooking up power, extending or retracting the RV slides, refilling and using propane, and more. 
Here's an RV checklist for setting up your RV. But be sure to talk to the owner about specific items you may need to know to ensure you perform steps correctly and keep the RV safe. 
How much should I pay for a rental? 
While price will obviously play a role in determining which RV you choose, a budget should be a part of your overall trip planning, and this includes where you'll go, and how long you'll stay, both of which can affect how much an RV rental will cost.
An RV rental generally costs anywhere from $100-$450 a night, depending on the age, mileage, and style of the RV. The duration of your trip can also affect the price, with longer rentals sometimes lowering the price. And time of the year can have an effect, with peak season and holidays often increasing the average rate.
How much gas does an RV use?
Along with your budget for a rental, factor in the fuel cost. If you tow, the extra weight will certainly reduce your mileage per gallon. And if you are running a motorhome? It depends on the type, but motorhomes in general require a lot of fuel. Know that gas prices can surge, especially during peak travel times, so try to get ahead of the curver or at least budget enough for high fuel costs. 
See below for rough estimates of how many miles motorhomes get per gallon. 
Class A – 6-10 MPG Class B – 18-22 MPG Class C – 10-15 MPG
Let fuel costs be a consideration as you plan where to travel. Often, the key to a great inaugural rental trip is to aim small and miss small. Choose a location that's close to home, where there's not too much at stake if something goes wrong. These shorter, closer trips will provide you the experience and comfortability you need to take longer extended trips. 
Leave a rating
A key feature to Good Sam RV Rentals is the community. For RVers, by RVers. When you complete a great trip with an RV rental, contribut to their future success by leaving a helpful review. Helpful doesn't always have to be 100% positive, too. If you experienced issues, your review and conversation with the owner can help them address those issues for future renters, improving the experience for everyone. 
Thinking about renting an RV for your next outdoor adventure? Check out the listings at Good Sam RV Rentals and find your perfect RV rental!
The post How to Rent the Perfect RV (with Good Sam RV Rentals) appeared first on Good Sam Camping Blog.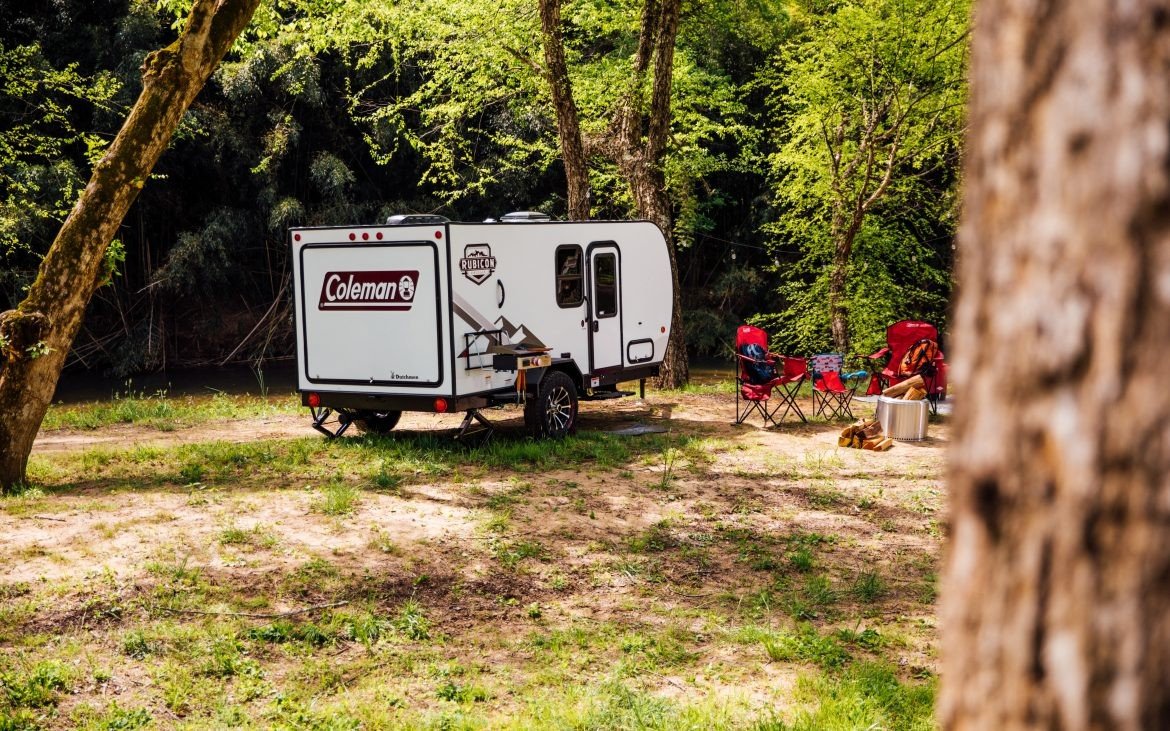 ---