Hunting and Fishing News & Blog Articles
Stay up-to-date on hunting, fishing and camping products, trends and news.
8 minutes reading time
(1557 words)
How To: A Luxury Vacation in an RV
Carmen and her family were able to spend some time having a luxury vacation in beautiful Hilton Head, South Carolina, their experience proved to them that they can get everything they want in a luxury trip while renting an RV. Watch the family's adventure below.
 What defines a luxury vacation?
Let's face it, free time is a luxury. That's exactly why we should indulge when we can. A luxury vacation is an investment of time in ourselves and our loved ones, and it shows we value experiences spent together. More than physical things, those experiences extend beyond the trip, which is why you should strive to experience more on all your vacations.
Few people know this more than Carmen Sognonvi of Top Flight Family. These days, she and her jet-setting family frequently travel the globe in luxury style. Their Top Flight lifestyle began with that first fateful trip.
"We had some credit card points saved up and booked a vacation to Cabo," Carmen said. After three straight years of growing their business without a day off, this was their first-ever trip as a family of four.
"It was such an amazing experience. Not only were we able to unplug from the business and unwind, but we reconnected with each other in a way that wasn't possible when we were wrapped up in our hectic daily routines."
Image by Good Sam
What is your luxury?
Luxury experiences take us out of our daily routines, allowing our minds to disconnect from the stressors of everyday life. A luxury vacation should feel like a departure from your normal patterns and set the stage to foster rich memories against a new backdrop. Your luxury vacation will feel like an escape.
Try writing the words "Luxury is…" and write whatever comes to mind as you envision your dream vacation.
Luxury is… peace and quiet.
Our daily lives are often filled with chaos: colleagues demanding a new draft, kids calling for their dinner, dogs barking, smartphones tweeting, dinging, and chiming, and the list goes on. If noise is the status quo, peace and solitude are considered modern-day luxuries.
In an RV, it's easy to get completely off-grid. Believe it or not, you can still travel to corners of the country where cell towers have yet to reach—no need to put the cellphone on silent if you're out of service.
There are plenty of places to find quiet in an RV. Silence is standing beneath northern California's redwood giants, sentinels that have stood firm through centuries of chaos. In a luxury RV, seek out those places of precious quiet.
Luxury is… avoiding crowds.
"One of our favorite domestic travel experiences," Carmen reminisces, "was snowmobiling through Yellowstone National Park in the dead of winter. It was so empty and beautiful that it felt unreal at times as if we were driving through one perfect landscape painting after another."
Shoulder-to-shoulder environments can be stressful. Though 2020 had us all flocking outdoors where we could spread out, it also filled popular destinations like national parks.
To get away from the crowds you need your own respite nearby. A luxury RV provides a clean and quiet environment where you can relax and recharge away from the public.
You might consider traveling to popular destinations in their off-season like Carmen and her family did in Yellowstone. You won't fight seasonal traffic, and you might enjoy the magic of seeing a new place at an uncharacteristic time.
What is a luxury RV?
Image courtesy of Good Sam
Fireplaces
Many new RVs have electric fireplaces that emit radiant heat and fill your lounge space with cozy vibes. When the campfire burns down, head inside to sit around the fireplace.
Extra TVs
Most hotel rooms are outfitted with one TV and one room to watch them in. This presents a problem when entertaining a crowd. With more than one TV, you can send the kids into the bunkroom for a movie, stream a live game on the TV outside, or curl up for a late-night film after the kids have gone to bed.
Heated theater seating with massage
Many modern luxury RVs take the entertainment experience up a notch with custom-designed theater seating equipped with heating and massage. Now you just get to argue over who gets the royal chair.
Tasteful finishes
You need not be a connoisseur of fine goods to appreciate great craftsmanship. Most luxury coaches are assembled by hand, and that's the kind of precision and care you can feel as soon as you walk in. RVs have long been known to have stuffy, outdated interiors. But contemporary RVs sport light finishes and residential appliances.
Ideas for a luxury vacation destination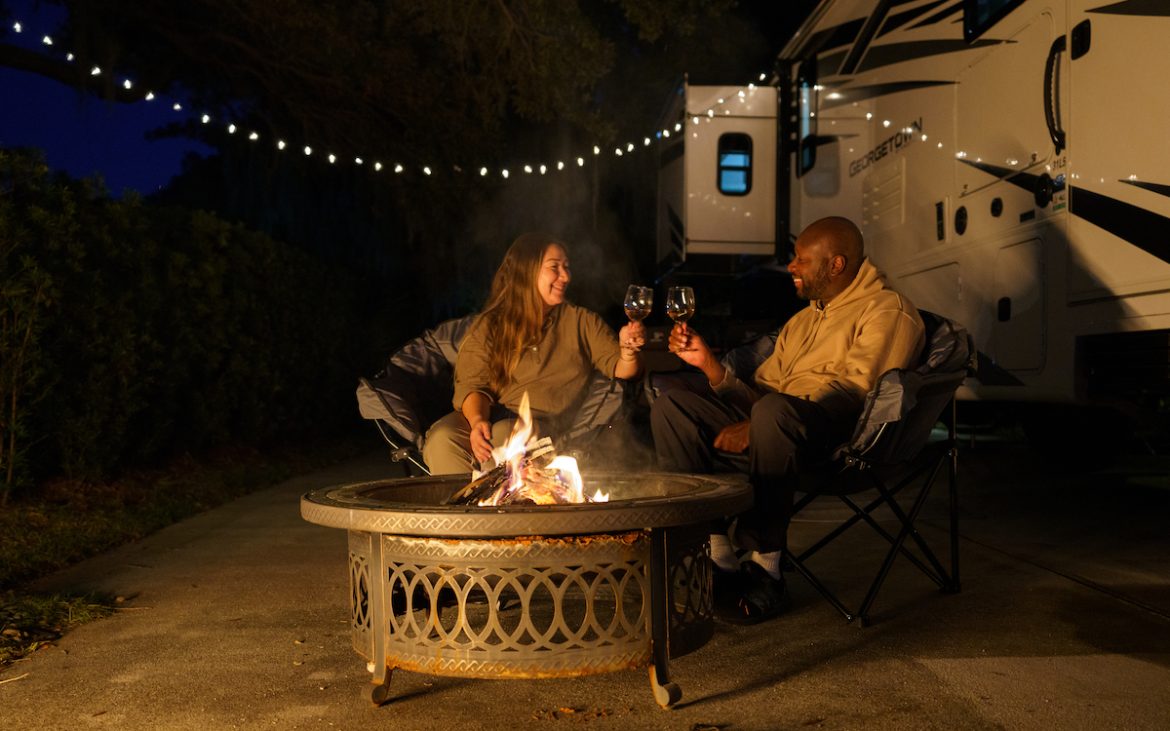 Image by Good Sam
It's time to get your luxury RV vacation on the calendar. Where will you go for the lavish escape you've been dreaming of? Here are a few ideas:
RV to ranches
Montana is known as Big Sky Country, but everything seems big here: the views, the mountains, and the ranches. Enjoy an authentic dude ranch experience from the comfort of a luxury RV. Enjoy horseback rides through the Rockies, private chef-prepared meals, sailing on glacial lakes, and sipping wine in front of views that never get old.
RV to hot springs
Hot springs are magical and romantic. They're the perfect location for a couple's vacation, anniversary celebration, or solo self-care retreat. Park your RV at these hot spring campgrounds and enjoy soaking at any hour of the day.
Faywood Hot Springs,
New Mexico
: A 30-minute drive off the interstate is all it takes to enjoy a soak in the private pools at this remote, private geothermal location in New Mexico. Sol Duc Hot Springs Resort,
Washington
: Tucked within Washington's Olympic National Park is a small but luxurious campground that offers RVers the same amenities as hotel guests, like private swimming pools and onsite massage.
RV to National Parks
Some national parks have hotels on the property, but they aren't always luxurious or available. Carmen found this out first hand: "When researching these types of trips, I've often found that the hotel options can be limited and not too impressive. So in cases like that, I actually think a luxury RV like the one we had in Hilton Head would be a more comfortable alternative when it comes to accommodations."
Explore every corner of the national parks and then come back to the comfort of an RV, ready and waiting at your campsite.
RV on the water
What's better than waking up to the sound of lapping water? Waterfront living is a luxury, and experiencing it in an RV makes it all the more comfortable. Find a site lakefront and take a morning paddle before the rest of your party has risen. Or park by the beach and jump in the waves whenever the mood strikes.
RV to the ski resort
That alpine life and the apres-ski events to follow are elegant and always a good time. Aspen and Vail, Colorado, are well-known worldwide for their lavish environment thanks to the charming architecture, high-end shopping, and fine dining that characterizes these mountain towns. Chase that champagne powder by day, and raise your glass to a luxurious vacation at night in a four-season RV.
RV to wineries
Wine and the luxury lifestyle go hand in hand. Grape-growing regions are known for rolling hills dotted with sumptuous estates. RV road-tripping through the Californian hills of Napa and Sonoma Valley is a new-world wine experience that's a feast for the eyes and palate. Many vintners allow RVs to park right on the vineyard. Take a luxurious trip through wine country and learn how your favorite drink goes from grape to glass.
RV to the city
Though remote locales have a certain appeal, city vacations are always fun, fast-paced, and full of good stories. It's difficult to find quality, comfortable city accommodations, and they're almost always pricey. Consider parking the RV at a campground nearby so you can retreat to your quiet space at night.
Camp at Liberty Harbor RV Park just outside of New York City and enjoy strolling through neighboring Liberty State Park as you take in up-close views of Lady Liberty herself.
Camp at Malibu Beach and wake up for a morning surf in the Pacific. Then head into the city for all the glamour Los Angeles has to offer.
Rent a Class A RV and stay at an RV resort in Las Vegas while enjoying a chef-grade outdoor kitchen, a gas fireplace, and all the world-class entertainment the Vegas Strip is known for.
Make A Vacation Feel Luxurious, No Matter Where You Are
Image courtesy of Good Sam
Planning and taking a luxury vacation should be simple, exciting, and fun.
Know your budget for your trip, and factor in paying extra for comforts and conveniences that make the trip more enjoyable. As Carmen puts it, "It's always worth paying a little extra to save time, reduce hassle, and maximize comfort when you travel with kids."
More than anything, remember that travel is the only thing we buy that makes us richer. Spend money on experiences, not things. These adventures and the memories they produce can never be lost or misplaced. These are the travel memories that will change you.
The post How To: A Luxury Vacation in an RV appeared first on Good Sam Camping Blog.
---