Hunting and Fishing News & Blog Articles
Stay up-to-date on hunting, fishing and camping products, trends and news.
4 minutes reading time
(891 words)
Handle Winter RV Driving Challenges Like a Pro
Winter weather driving is not something that springs to mind when we think of RVing. However, most recreational vehicle owners have or will be exposed to it at some time during their travels. It can occur to snowbirds during their journey to the Sun Belt or during their spring trek back home. Winter conditions can present themselves in higher elevations or during mountainous travels on an otherwise tranquil day. Deteriorating winter-like conditions can descend without warning. Many travelers can't avoid crossing a wintery area to reach a destination or to escape an approaching weather system.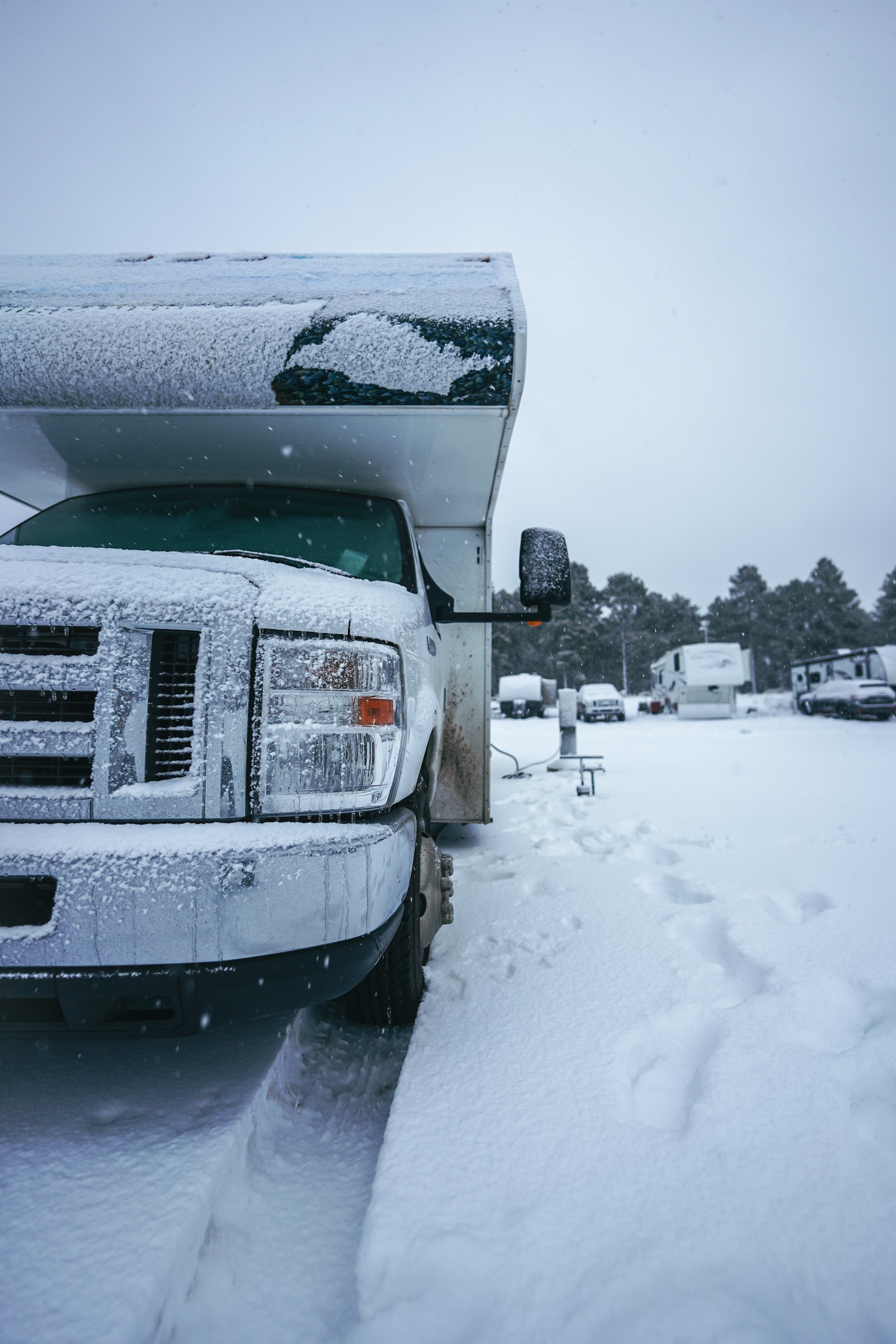 Getty Images
Some of the challenges that winter weather can produce are freezing temperatures, precipitation in the form of snow or freezing rain, icy, slippery road surfaces, reduced visibility in blowing snow and vehicle ice buildup that hampers windshield wiper function and forward vision, to name a few. These conditions can make travel extremely challenging, or at times, impossible.
So, let's look at ways to help avoid winter hazards and some tips that may help RVers deal with these wintery perils.
First, the best way to mitigate the risks of such events should be obvious: Avoid traveling any routes and times that may be subject to this type of weather. While this strategy may work, it also seriously limits RV travel plans.
With this in mind, the first thing you want to do prior to setting off on a journey that may involve frigid weather conditions is to research the current and forecasted weather along the intended route. This should also include the national weather system's paths.
This is not done to determine if you are going or not. It is to confirm the best route and time to depart. A pilot or ship captain would never set off without first checking the weather picture. This will work for you, too.
Now let's look at some of the best techniques to best deal with winter-like conditions.
Look and Listen
Monitoring the outside temperature with a remote readout can help to determine what may lie ahead while operating in near-freezing weather. Keen observations while driving can also reveal conditions that may be encountered shortly. Noticing an abrupt wind change generally indicates the possibility of penetrating a weather front. A temperature change will probably be experienced, and the possibility of a weather change is imminent.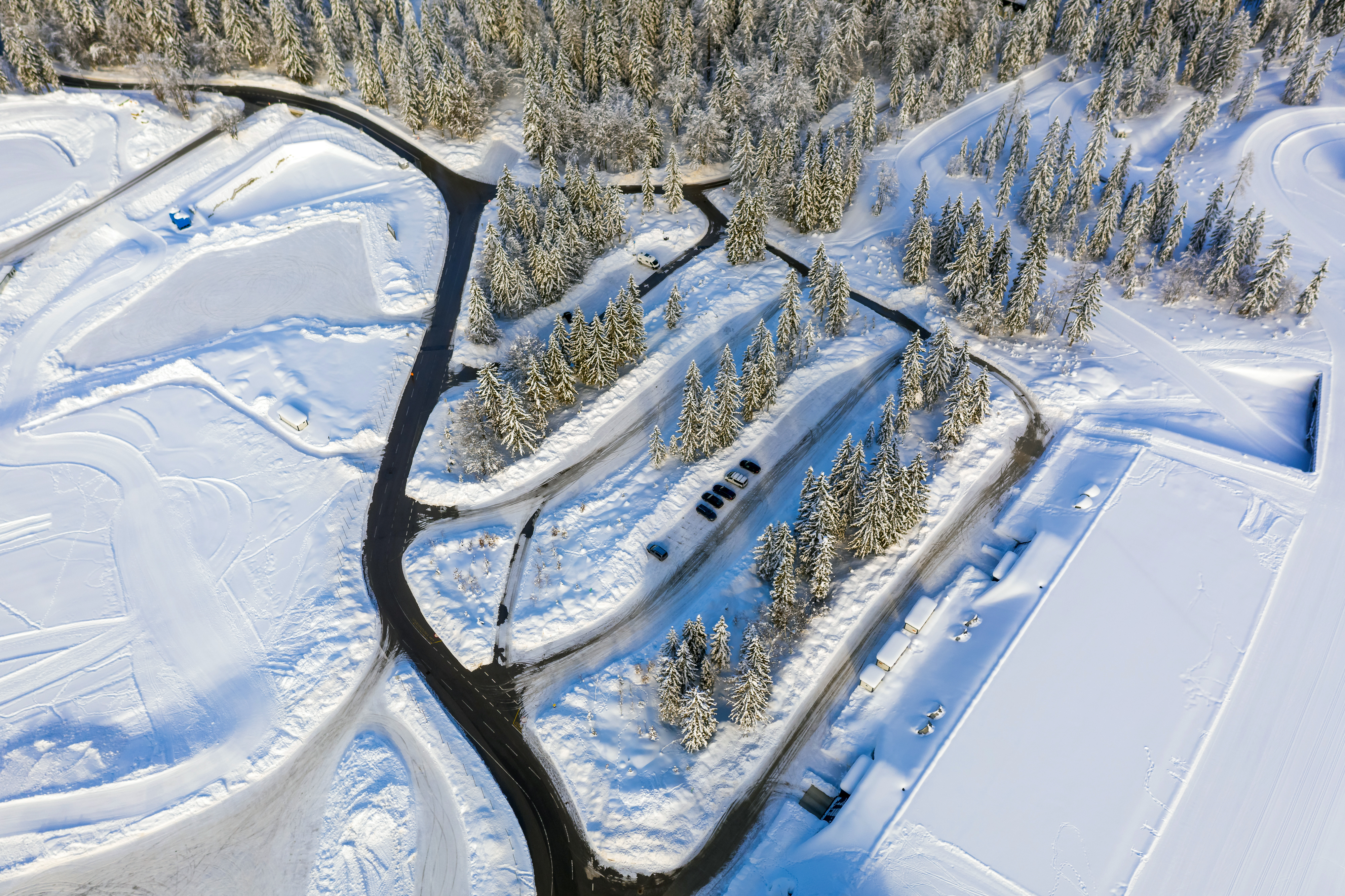 Getty Images
See the Squalls
Squall lines often emerge in such conditions, leading to rapidly deteriorating visibility in heavy rain or snow squalls. So caution should be exercised. Pulling in a safe location off the road to ride out a squall is a good measure. It won't take long, as most squall lines move through in short order.
Heed the Signs From Opposing Traffic
Other helpful observations can be found watching the opposing traffic. Windshield wipers at high speed, snow building up on trucks and traffic moving at a noticeably slowed rate can all serve as a warning of approaching deteriorating driving conditions.
Stock Up on Supplies
You should be prepared if you are setting out on a journey that might involve traveling through wintery conditions. Keeping your fuel tank adequately filled and packing a few days worth of food and water should be included in the equation.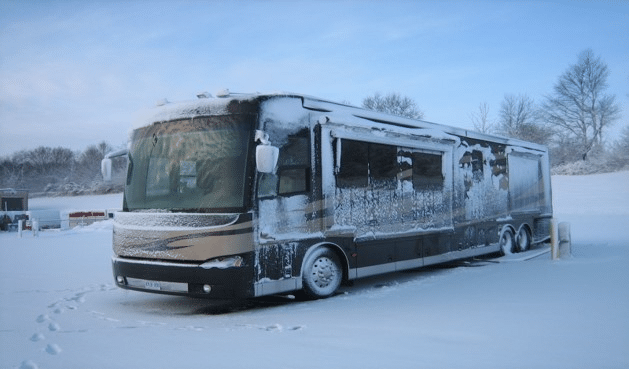 Photo: Peter Mercer
Give the Slides a Rest
Don't extend slides during temporary on-the-road overnight stops if precipitation is present or expected. The penalty may leave you with the slides, or toppers, frozen by morning, making retraction very difficult.
Avoid Slushy Stopping
Stopping on wet, slushy roads poses an additional challenge. This scenario can cause your parking brake mechanism, when applied, to seize due to wet linings freezing and bonding to their friction landings. The use of wheel chocks, at least until the parking brake configuration has equalized in temperature, should alleviate the issue.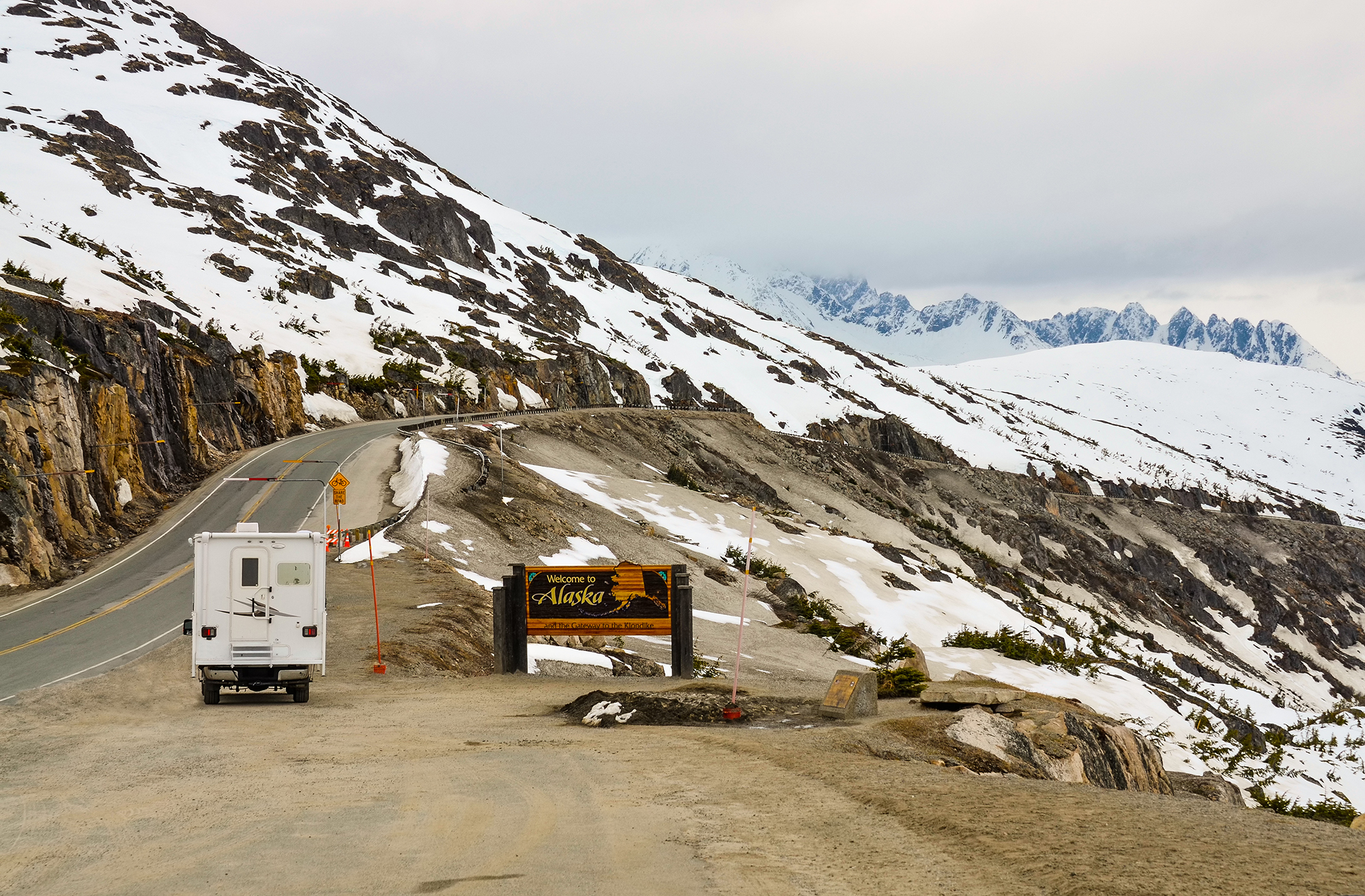 Truck camper at the Welcome to Alaska Sign on Klondike Highway near Skagway. Getty Images
Allow Time for Defrosting
If the following morning finds you in a much colder surrounding landscape, you may need some extra warmth to keep comfortable and warm up the engine. If you have a motorized RV, the windshield may take extra time to clear of ice and moisture. These extra-large glass domes don't burn off easily but require being defrosted thoroughly before setting off.
RVs Can Handle It
Generally, driving your car or SUV in icy, snowy, winter conditions is not a day in the park. But when it is a recreational vehicle, well, that's a whole other matter. Recreational vehicles were not designed or meant for such an environment. However, they are a lot more capable than we tend to think. They may be bigger, heavier and perhaps more intimidating than your daily driver, but more and more units are coming equipped with many driver aids and features. Such items as ABS brakes, driver-assist multi-cameras, smart cruise control, auto braking and lane-change assist are just some of the operator aids and features that are available today, with much more being introduced every year.
So, avoid travel in those north American winter conditions. But if fate leaves you faced with the unavoidable, you have the tools to handle it.
RVing is not just a road trip, it is a life's journey.
Peter Mercer – With the Joys of Winter
The post Handle Winter RV Driving Challenges Like a Pro appeared first on Good Sam Camping Blog.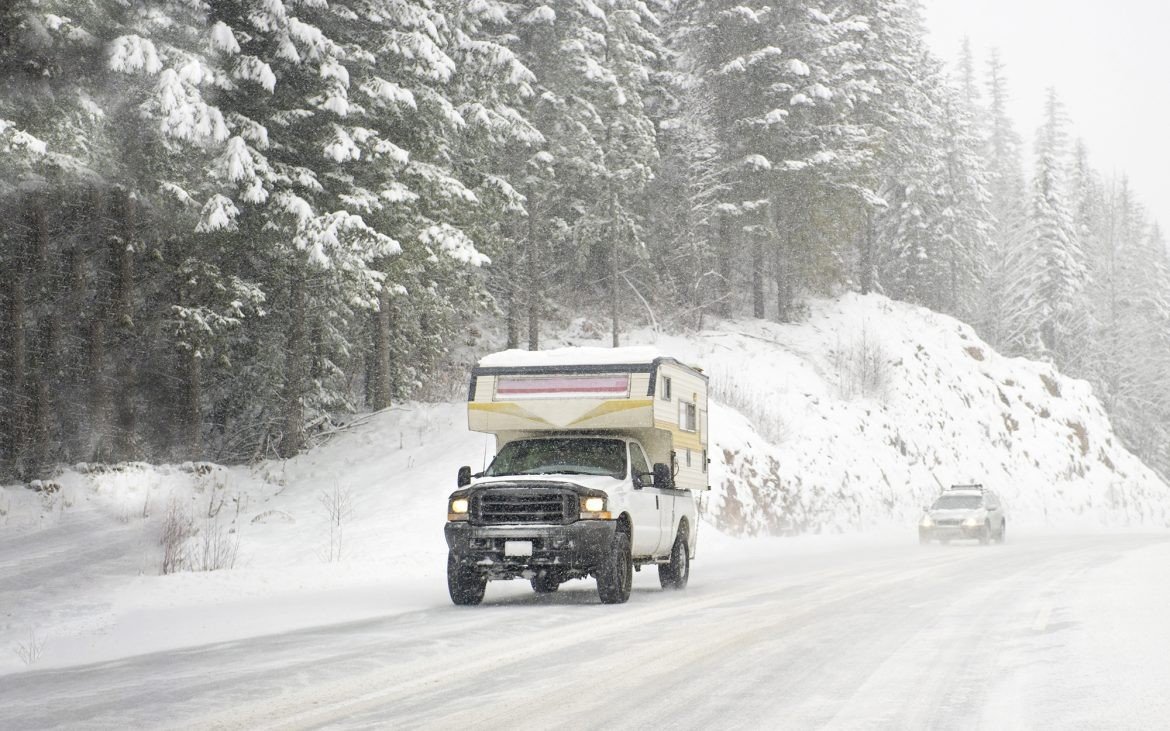 ---