Hunting and Fishing News & Blog Articles
Stay up-to-date on hunting, fishing and camping products, trends and news.
6 minutes reading time
(1190 words)
First Time Camper's Tool-kit
If you're looking to go camping for the first time this year, you're in for a great experience. And you're certainly not alone, considering camping accounted for about 40% of recreational trips last year. Camping continues to be one of the most affordable and enjoyable ways to unplug and reconnect with the people and things that matter most.
But if this is your first time getting out there, it might be a little daunting knowing where to begin. Do you need to make a reservation, and if so, what's the best way? What's the proper etiquette when staying at a campground? What kind of camping gear will you need?
To guarantee a great first experience, here's a first-time camper's toolkit to keep in mind.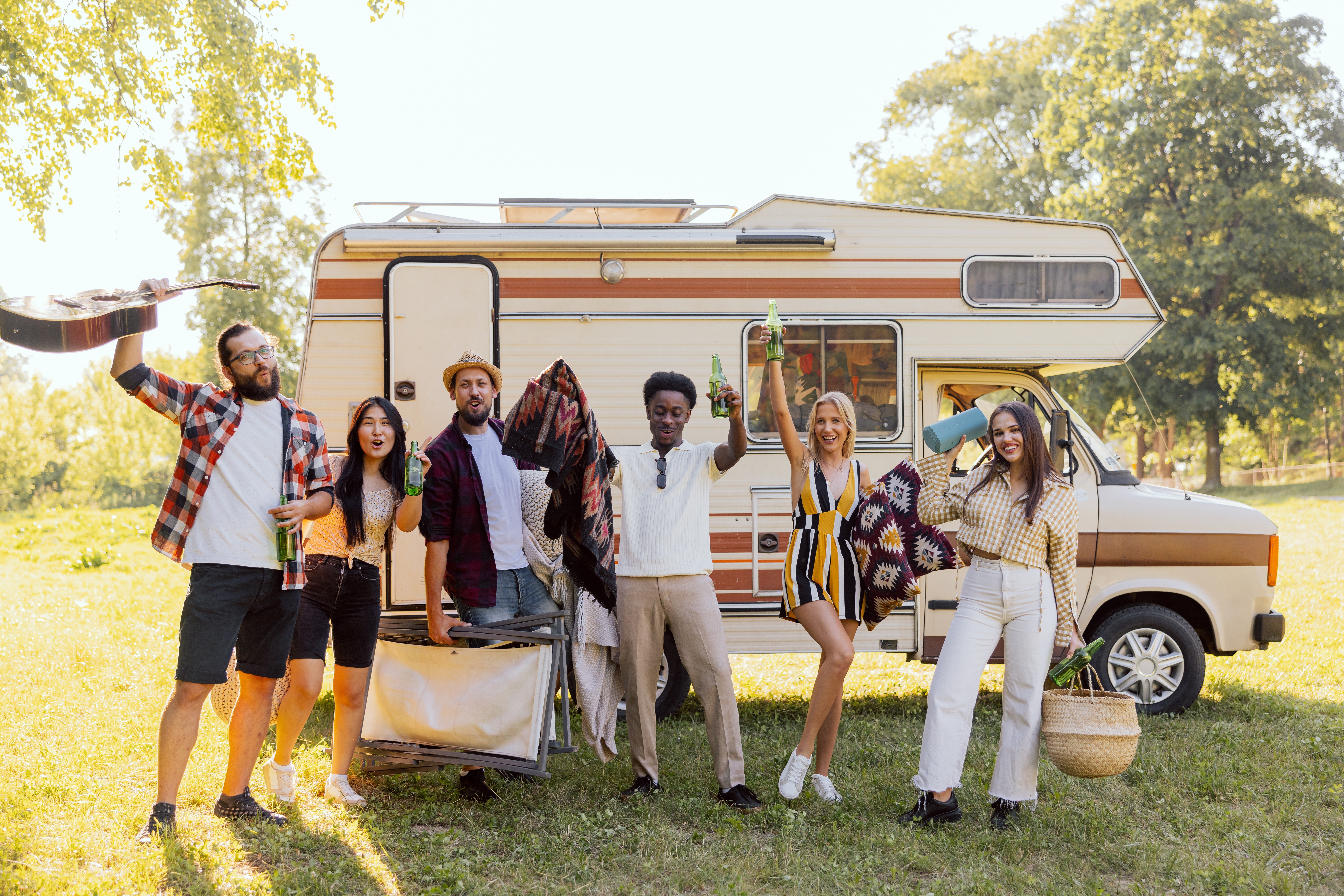 Image: Shutterstock
Reservations  
A great camping experience starts before you even set foot in a campground. Make the most of your stay by making the most of your reservation.
Reserve sooner than later
As more and more folks take to camping, you'll need to adopt a sense of urgency with your reservations. Top campgrounds sell out fast, with a good number of parks taking reservations months to years ahead of time. Stay ahead of the curve and make your bookings as soon as possible.
Book online
See if the campground has an online booking option first, and then call or email if they don't. The reality is that booking online is generally much easier, quicker, and allows for more control over where you end up in the park.
Choose the right site
Assuming you've found a campground that matches your speed, let's zero in on the best site possible. Take a look at the campground's map or ask questions, and determine the most appropriate site based on the following:
Proximity (To restrooms, Wi-Fi, trails, clubhouse, pool, etc.) Parking (Will you be able to pull through or will you have to back in?) Shade Foot traffic Noisiness How level is the ground? Electrical hook-ups
Review campground policies
Take time to review the campground's policies, specifically regarding:
Pets Noise/quiet hours Children Dumping Facilities Cleanliness Other campers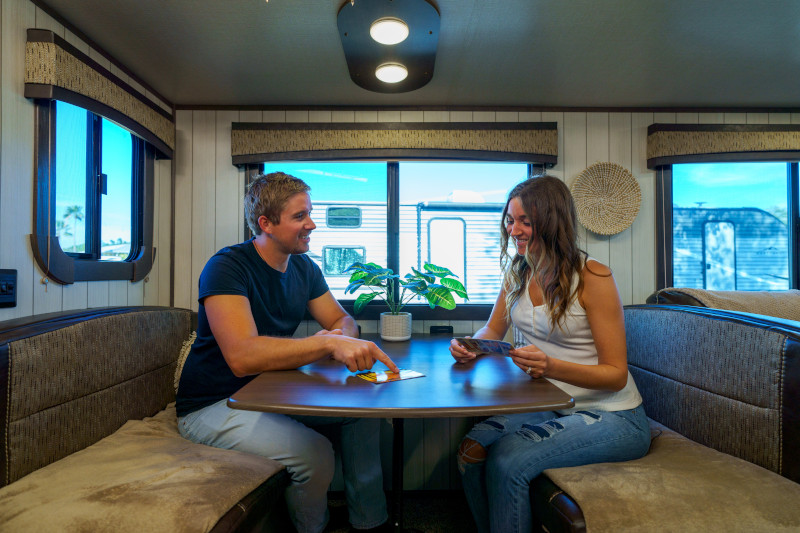 Campground basics
There are few joys in life as straightforward and accessible as camping, but even then, there are still a handful of standards and best practices to keep up with. 
Check-in
Similar to a hotel or Air BnB, campgrounds tend to have designated times for check-in, so be mindful of the policy. Many parks will also have designated areas towards the entrance for your check-in process if not stated otherwise. If you know you're going to be late, it's probably worth noting whether or not they have an online process.
Etiquette
While every campground is unique, there are still a lot of universal rules to keep in mind. Review the campground's specific policies, and adhere to a few standard practices:
Be the kind of neighbor a neighbor would like to have. Respect other people's space (don't walk through or encroach without permission). Be mindful of quiet hours and noise pollution. Be mindful of your kids and other members of your party. Keep your belongings in your space and keep your campsite clean. Clean up after your dogs, keep them leashed, and try to prevent any unnecessary barking.
RV basics
Whether you're renting or just bought a new rig and want to take her for a spin, camping in an RV is certainly the best combination of comfort and what we love about the outdoors. With that, there are a few things to put on your radar when it comes to the proper way to camp with your motorhome. 
Setup
Okay, so you've found your campsite, and you've successfully backed in or pulled through. Now it's time to properly set up camp in the proper order:
Take note of the space of your campsite to account for slide outs and ensure that you can reach your hookups. Ensure that your RV is level on both sides. Chock your tires and place any support blocks under the stabilizing jack. Unhook and level the trailer. Connect to your hookups. Pull out your awning and set up your space as you'd like.
Full and partial hookups
Also note whether your campground advertises full or partial hookups. If it's full then your site will have a line for water, sewer, and electric. If it's partial, then you'll probably only have water and electric (although there will likely still a dump station for sewage somewhere on the property).
Water
Your campsite will provide a spigot where you can connect your shower, sinks and toilet through a proper RV hose (not a garden hose). It's also a good idea to also connect a pressure regulator and filter system before running water through your RV's pipes.
Sewer 
The crass reality is that the wastewater from your toilet and drains has to go somewhere. This is where your black tank (toilet) and gray water tank (shower and sinks) come into play. It's imperative that you dump all of your black water into a proper sewer or septic system, considering it's illegal, harmful, and disgusting to do otherwise. Even if your campsite doesn't have a specific hookup for your sewage, they'll likely still have a dump station you can access.
Electrical connections
Make sure your campsite has the proper connections you'll need for your rig (15, 30 or 50-amp power). Once you get to the campsite, you'll want to power down your electronics and plug your power chord into the provided pedestal. Also keep in mind that if you're trying to watch satellite TV or stream over WiFi, you'll want to be in a site with an unobstructed view.
Teardown
Before you hit the road, let's take a beat and make sure you properly deconstruct your campsite:
Turn off all interior electrical connections (AC, water pump, lights, etc). Close the slide-outs (assuming there are no obstructions inside the rig). Retract the awning and clean up the exterior. Disconnect hoses, unplug power connections, and turn off the propane. Retract the jacks. Hitch up the trailer, and attach your breakaway switch, safety chains and weight distribution. Pick up leveling blocks and wheel chocks. Take a last sweep of the campsite, pick up any trash, and have a safe drive.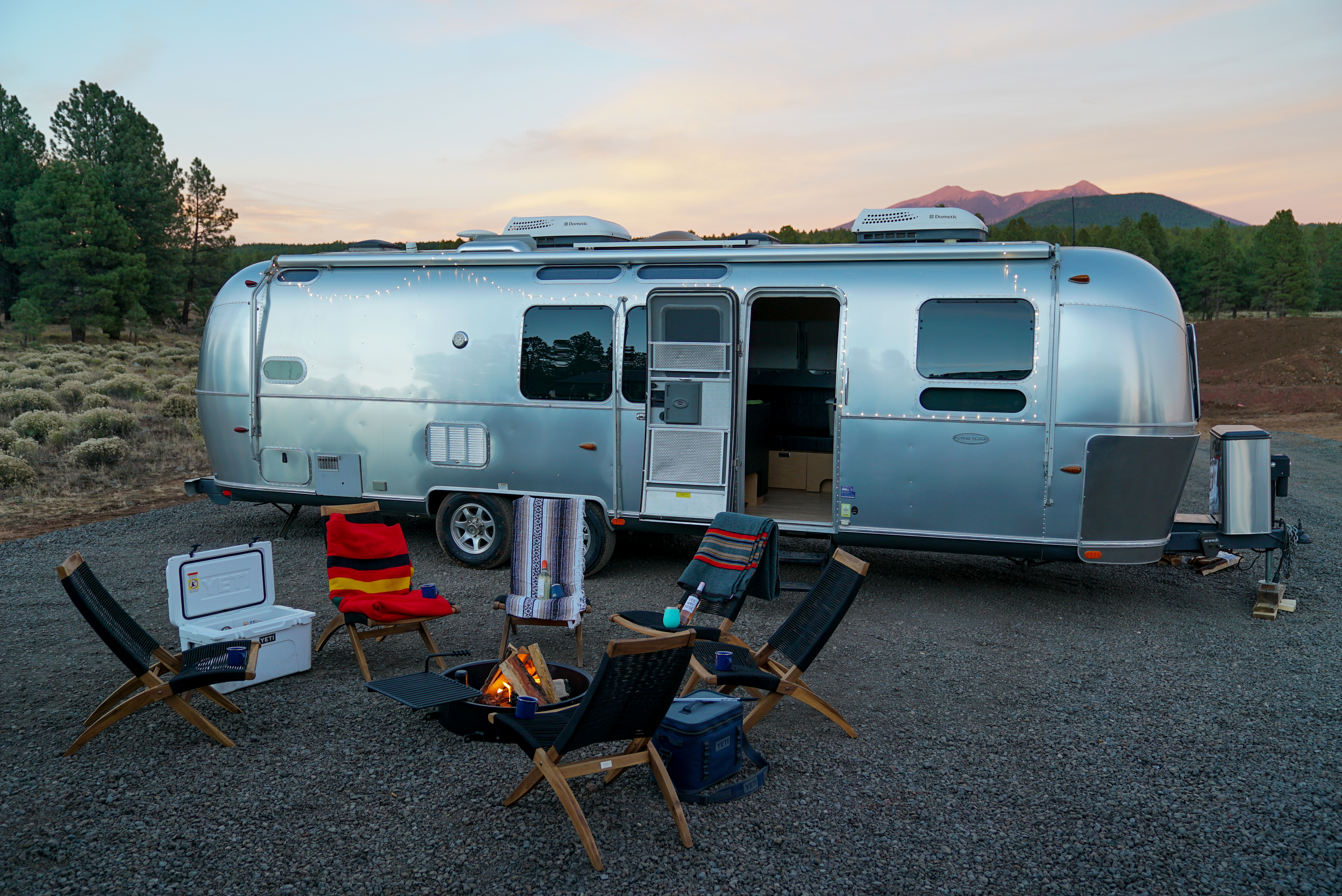 Gear 
Camping essentials
Obviously, a lot of gear is contingent on how furnished your camping experience is. But whether you're tent camping, RVing, staying in a cabin, or glamping, you'll be glad you brought the following:
First aid kit Flashlight Knife Pocket knife Headlamp Camping chairs and table Lantern Cooler Portable cooking accessories  Water jugs Coffee maker Trash bin Dutch oven Camp grill Charcoal Binoculars GPS/navigational tools Raincoat Hiking boots Toiletries Baby wipes Sunscreen Insect repellent Sunglasses Portable phone charger
RV essentials
Whether you're renting or just purchased an RV, make sure you have the proper gear for any situation. Here are a few tools and accessories to keep handy: 
Carbon monoxide detector Generator Leveling ramps Stabilizer jack Water filter Tire pressure gauge Standard toolbox Surge protector Power chord Duct tape Propane and propane cover Hoses (water and sewer) Heater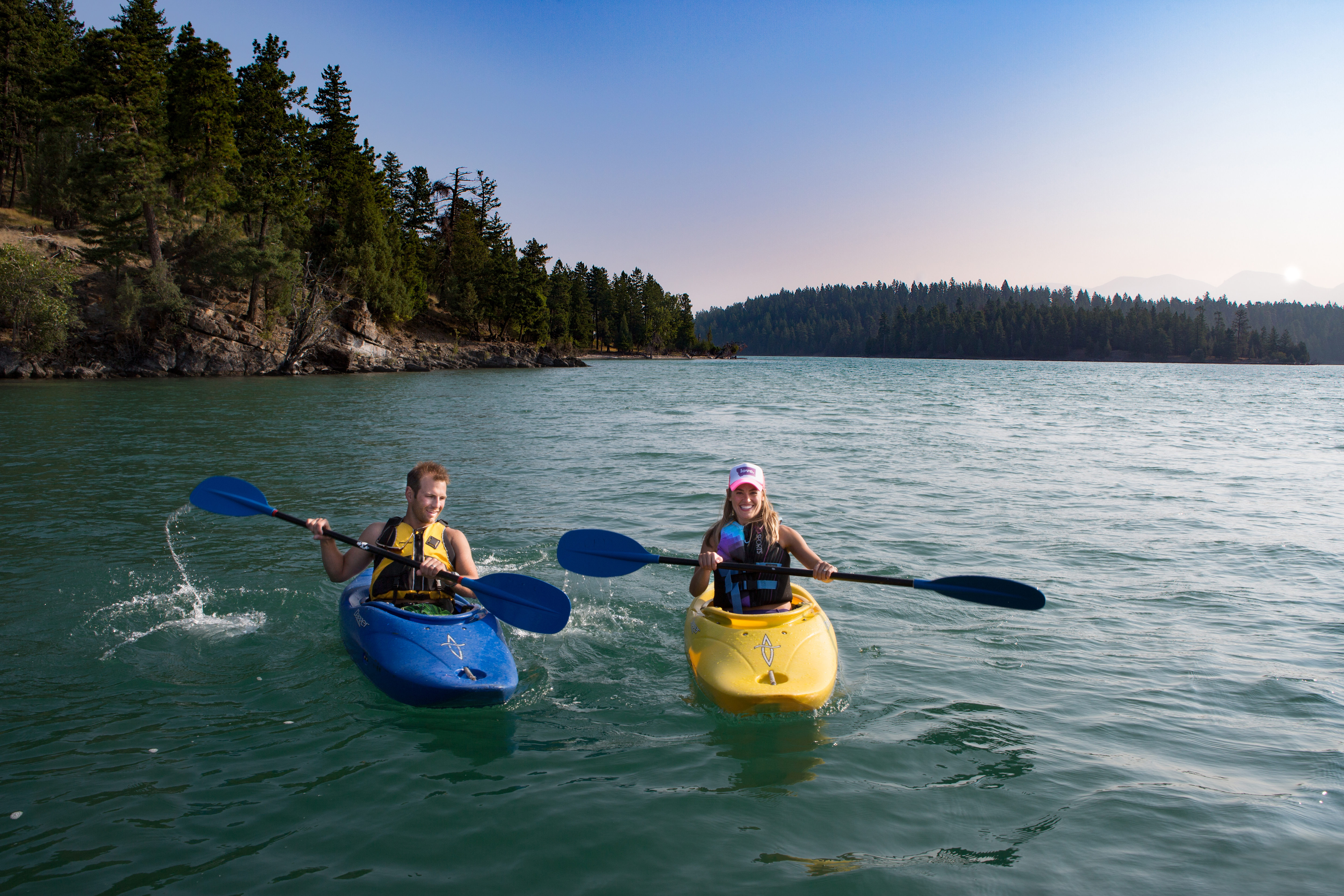 Ready to get out there?
While making the reservation and stocking up is a great place to start, if you want to maximize your experience and stretch your dollar further, a Good Sam membership goes a long way. With friendly support, discounts and savings on gear, fuel, and over 2,000 campgrounds, it's easy to understand why Good Sam is trusted by over 2 million members.
The post First Time Camper's Tool-kit appeared first on Good Sam Camping Blog.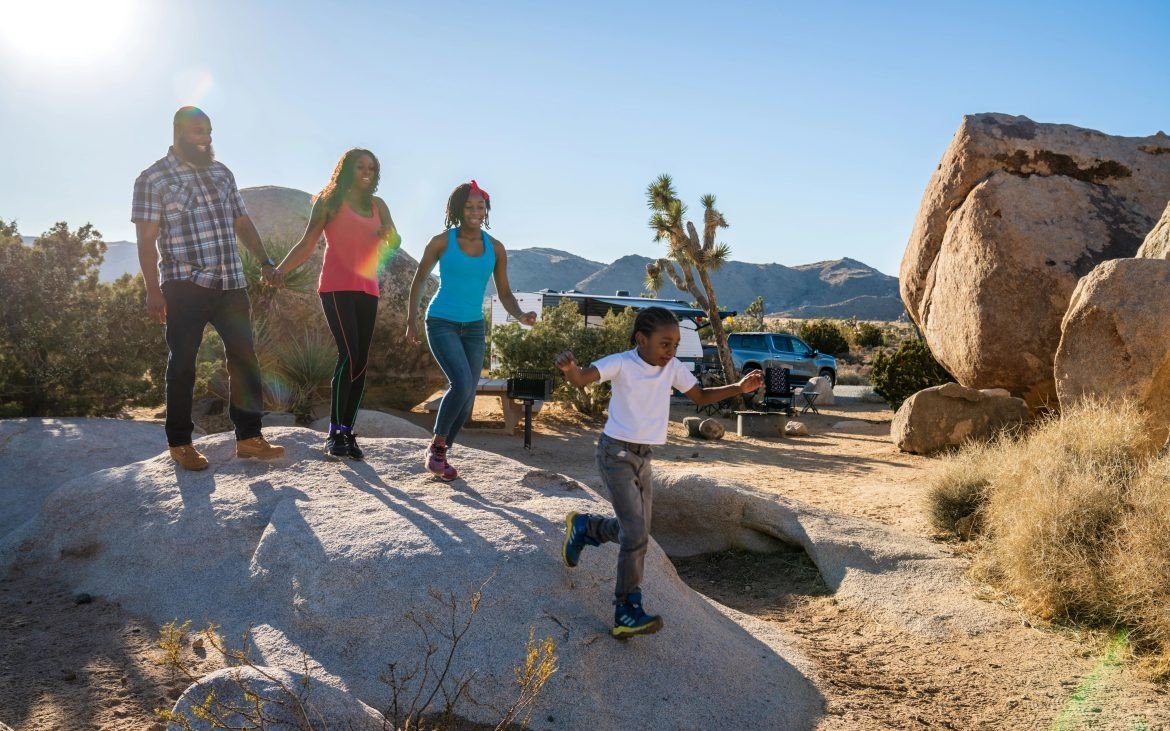 ---