Hunting and Fishing News & Blog Articles
Stay up-to-date on hunting, fishing and camping products, trends and news.
5 minutes reading time
(1082 words)
Experience New Mexico Enchantment in USA RV Park
Take the "highway that's the best" to USA RV Park in Gallup, New Mexico. The highly rated campground lies on Route 66 (following Interstate 40) and offers a host of amenities to guests. From the Gallup campground, visitors are just a short drive to iconic Desert Southwest attractions, from Native American trading posts to world-famous archeological sites. 
If the name, Gallup, sounds familiar, you may have heard the town mentioned in the iconic tune, "Route 66." A half-century since Nat King Cole's version of the hit song first started spinning on turntables, Gallup still gets plenty of love from travelers looking for "kicks" along the fabled Mother Road. The John Mayer version played on the hit 2006 Disney movie, "Cars."
Enchanted Park
The 136-space USA RV Park has sites as long as 80 feet and most sites are full hookups. Several pull-through sites accommodate guests, with ample shade trees and room for slideouts. Most sites in the four-season campground offer WiFi and almost all are all-weather sites. Dog owners can turn their pooches loose in the enclosed dog run, although there are some restrictions for canines.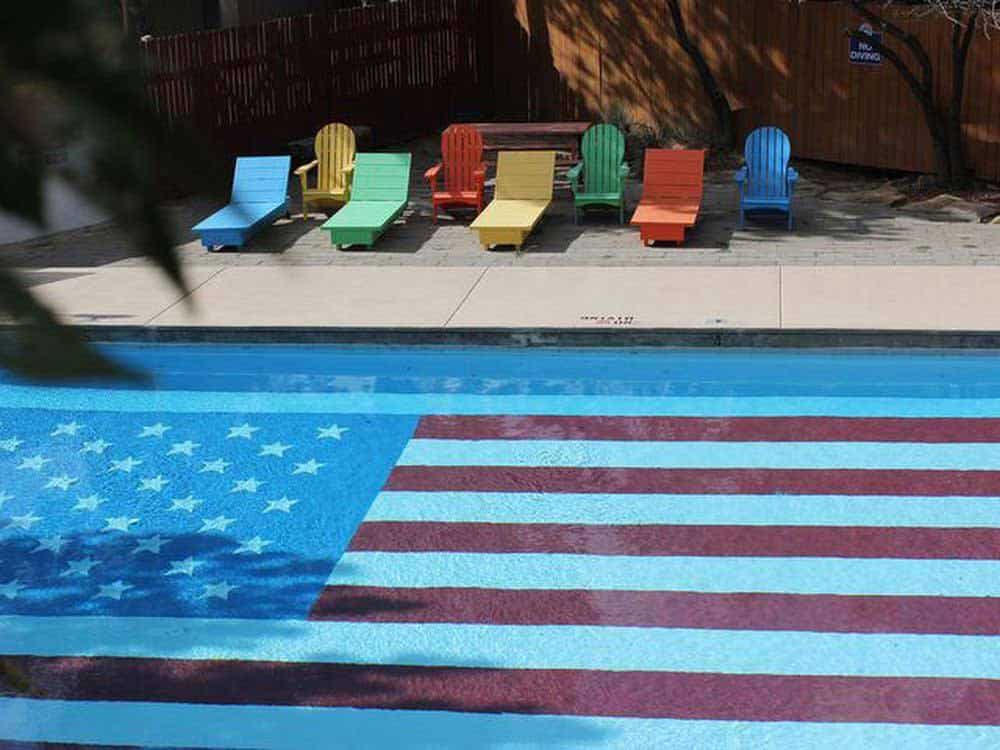 USA RV Park pool
Guests have lots of amenities at their fingertips, including a restaurant, groceries, and RV supplies. Also entertaining visitors are a heated pool, putting green, and playground. A game room keeps the fun going. Guests can take advantage of the laundry facilities, restrooms, and showers. With a 10/10*/9 Good Sam rating, the campground meets high qualities of cleanliness.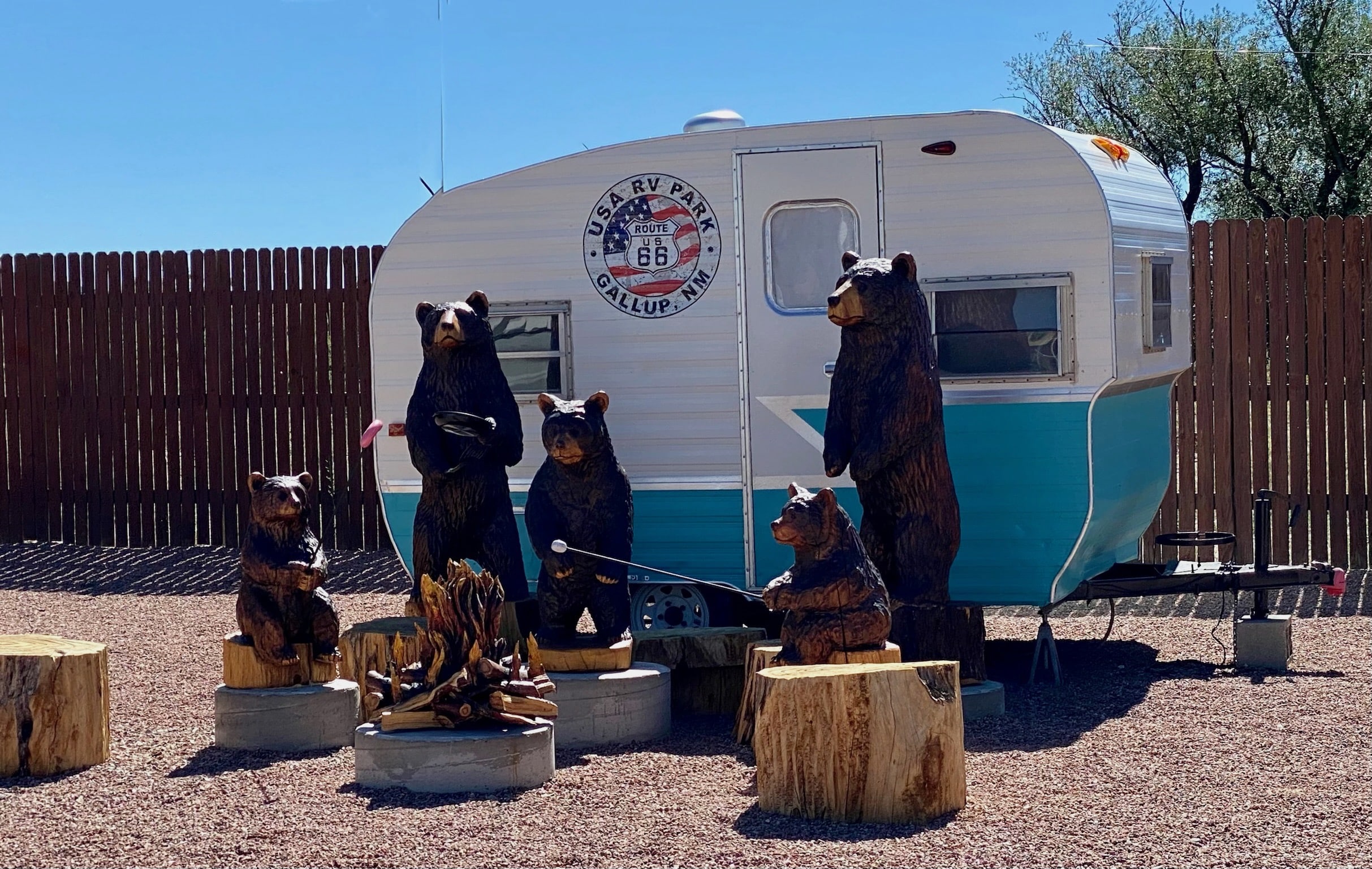 USA RV Park
The park's Patriot Exhibit pays tribute to the United States. Before leaving, guests can pick up a souvenir at the campground's gift shop. Make sure to sample the campground's succulent barbecue dinner.
Rugged Trails
Sitting in eastern New Mexico about 20 miles from the Arizona border, Gallup sits close to iconic national and tribal parks. The vibrant town has earned the monicker Gateway to Native America, with a slew of events, museums, and galleries celebrating the area's indigenous peoples. The food also reflects local culture, with both red and green chiles featuring prominently on Tex-Mex menus.
Outdoor lovers will discover plenty of trailheads that snake through the rugged countryside. More than 30 miles of hiking and biking trails can be accessed from Interstate 40 and Route 66. Trips ranging from easy to advanced will lead hikers to sweeping vistas.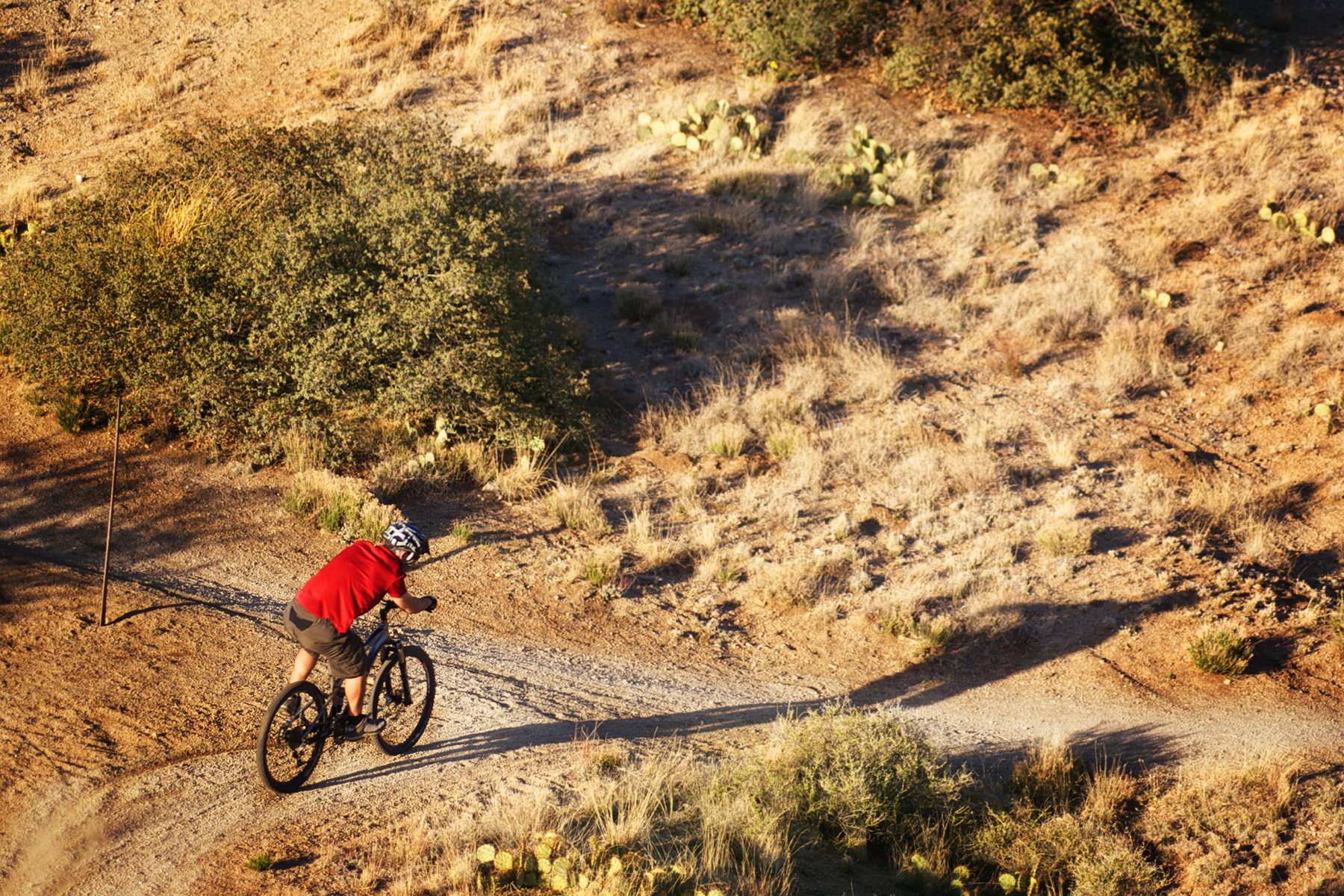 Getty Images
North of town, the Gallup North Hogback Trail appeals to adventurers who don't mind accelerating their heart rates. Steep switchbacks lead hikers and bikers over a ridge (on some stretches of trail, bikers have to carry their vehicles). Follow the north trails through a narrow valley to pass the famous Gallup cairns, which guide the way. Some of the terrain here gets steep, so hikers and riders are advised to watch their steps.
To the southeast, the Zuni Mountains beckon explorers who prefer ponderosa pine forests and canyons lined with aspen trees. The gentle slopes of this region are accessible with a host of hiking and biking trails. Visitors will encounter babbling streams, flowery meadows, and trails that meander into the woods. The Continental Divide range cuts through the middle of the forest, and the terrain reaches its highest point at Mt. Sedgwick, which stands at 9,256 feet.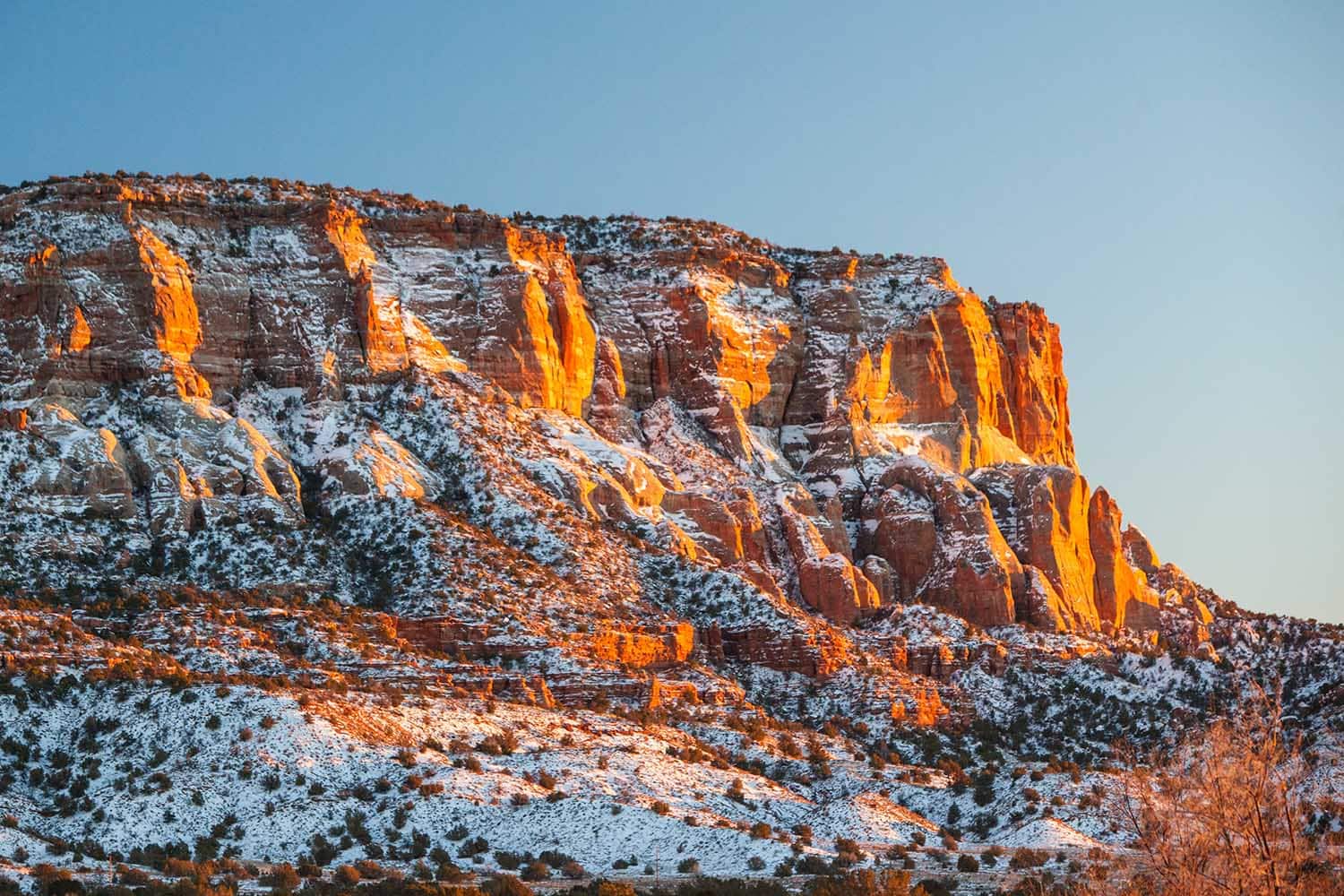 Sunset in Zuni, New Mexico on a rock face in New Mexico, USA
For a fun ride, bikers can follow the Plush Trail, which plunges deep into the forest with lots of twists and turns and also crosses surface rock.  
Day Trips 
Set aside a day to discover some of New Mexico's historic treasures. Ninety-five miles to the north, Chaco Culture National Historic Park protects the ruins of a city built by the Chacoan people in the mid-800s. With advanced masonry techniques, these ancient builders constructed dwellings containing hundreds of rooms in multiple stories. Guided hiking and biking trails give visitors insights into the sophisticated culture of the Chacoans.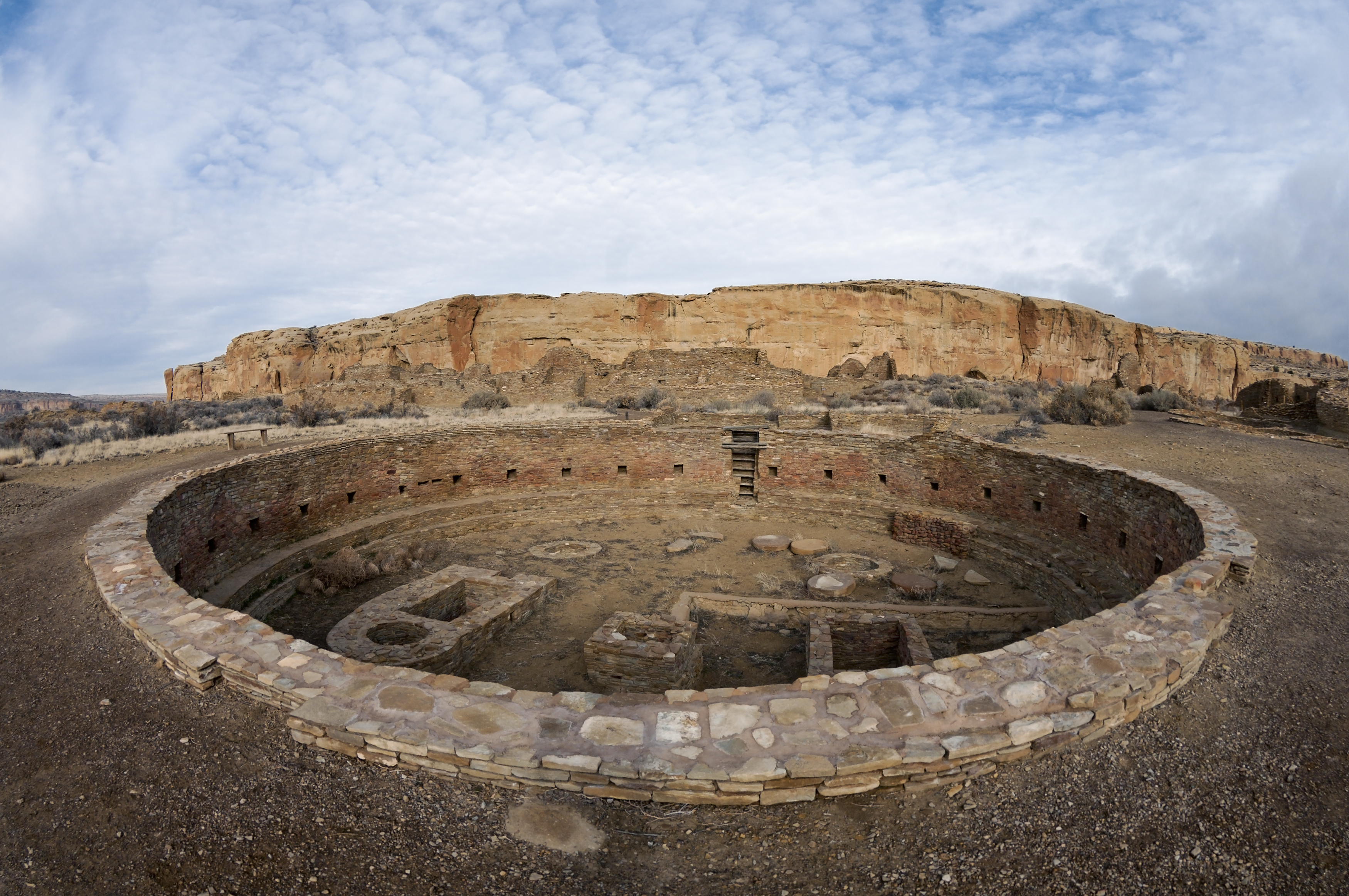 The Chetro Ketl great kiva, Chaco Culture National Historic Park. Getty Images
More Native American history awaits in the Sky City Cultural Center and Haak'u Museum, located 90 miles southeast of Gallup. Showcasing cultural artifacts, this center is the gateway to Acoma Sky City, the oldest continuously inhabited settlement in North America. Situated atop a mesa, this community preserves iconic adobe buildings.
Twenty-five miles west of town across the Arizona border, the Window Rock Tribal Park & Veteran's Memorial is known for its namesake hole in a rock face. As part of the attraction, the Navajo Nation Museum contains jewelry displays, videos, and historical artifacts that tell the story of indigenous people who thrived in the arid Desert Southwest. The Navajo Nation Trail leads is a 2.4-mile out-and-back route that leads hikers to the base of the famous Window.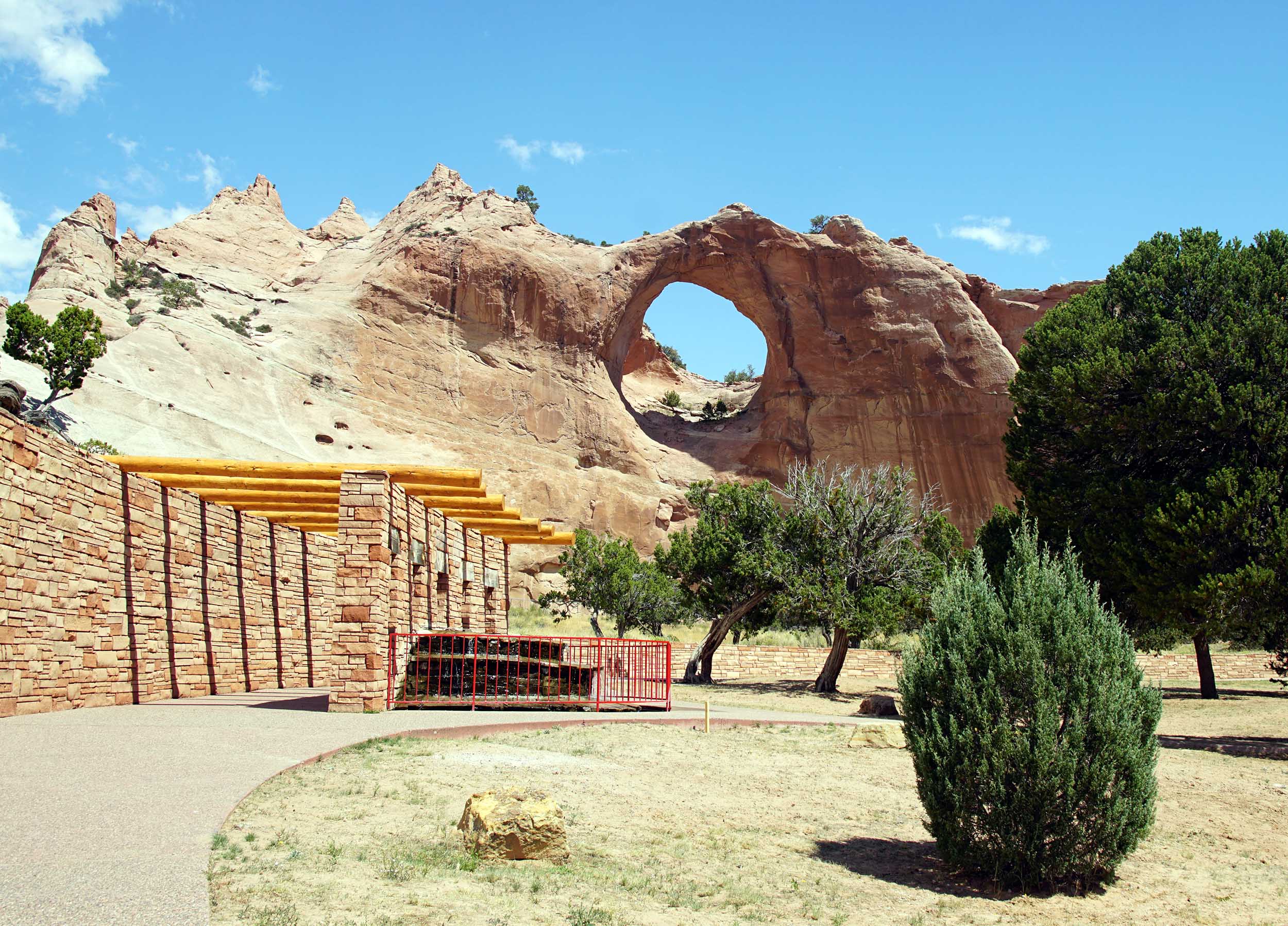 Window Rock. Photo: Getty Images
Learn more about these indigenous people at the Navajo Code Talkers Museum in Gallup. Learn how tribal members radioed vital military information in their native language in the Pacific Theater of World War II. The Navajo tongue was indecipherable to Japanese military forces. 
A short drive east of town along Interstate 40 will take motorists to Church Rock, a towering rock spire. Take a 2.6-mile out-and-back trail to get close to this photogenic spectacle. Thrill seekers take a balloon ride in the area to see the terrain from high elevations.
Local Heritage
Gallup is home to more than 1,000 Native American artisans who create everything from turquoise rings to stunning rug weavings. Spend a day shopping in the town's major trading posts and visit the Gallup 9th Street Flea Market, with art, jewelry, clothes, and other goods from more than 500 Native artisans.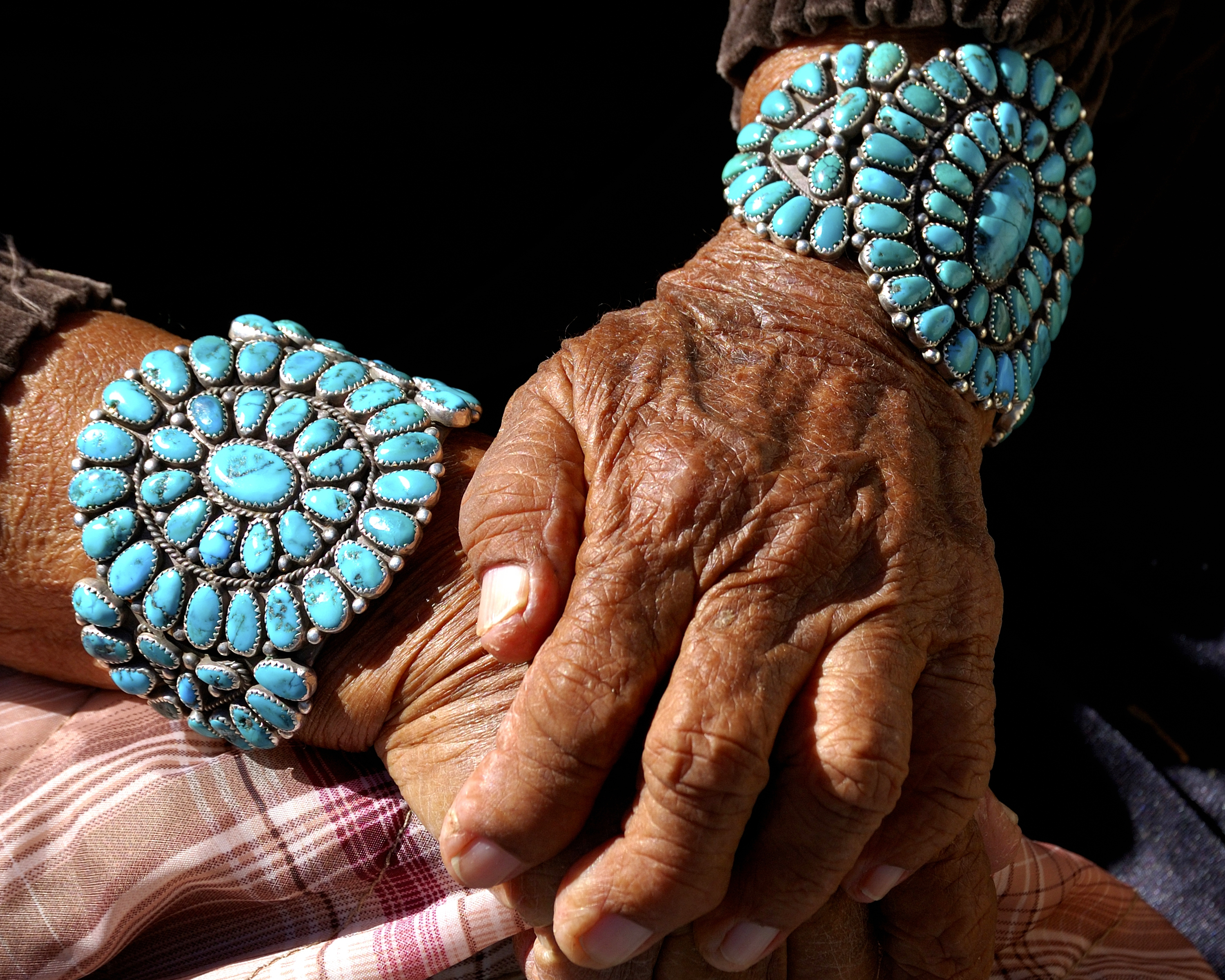 In these turquoise bracelets worn by a Navajo grandmother, each stone represents a significant life event she celebrates. Getty Images
After a day of shopping, visitors can dine in some of the finest Tex-Mex restaurants in the Southwest. Establishments like La Carreta Mexico Restaurant serve up spicy, chile-laden cuisine ranging from succulent tacos to sizzling fajitas. Sample the glamor of old Hollywood at El Rancho, a historic hotel that served movie stars. Nosh on a Pancho Villa taco salad in a majestic setting. 
For lovers of creativity, the Gallup Artscrawl leads visitors to galleries, artist demos, live music, crafts, and games for the kids.
For more tips on how to find incredible campgrounds like USA RV Park, check out our comprehensive guide to finding new campgrounds. Safe travels!
The post Experience New Mexico Enchantment in USA RV Park appeared first on Good Sam Camping Blog.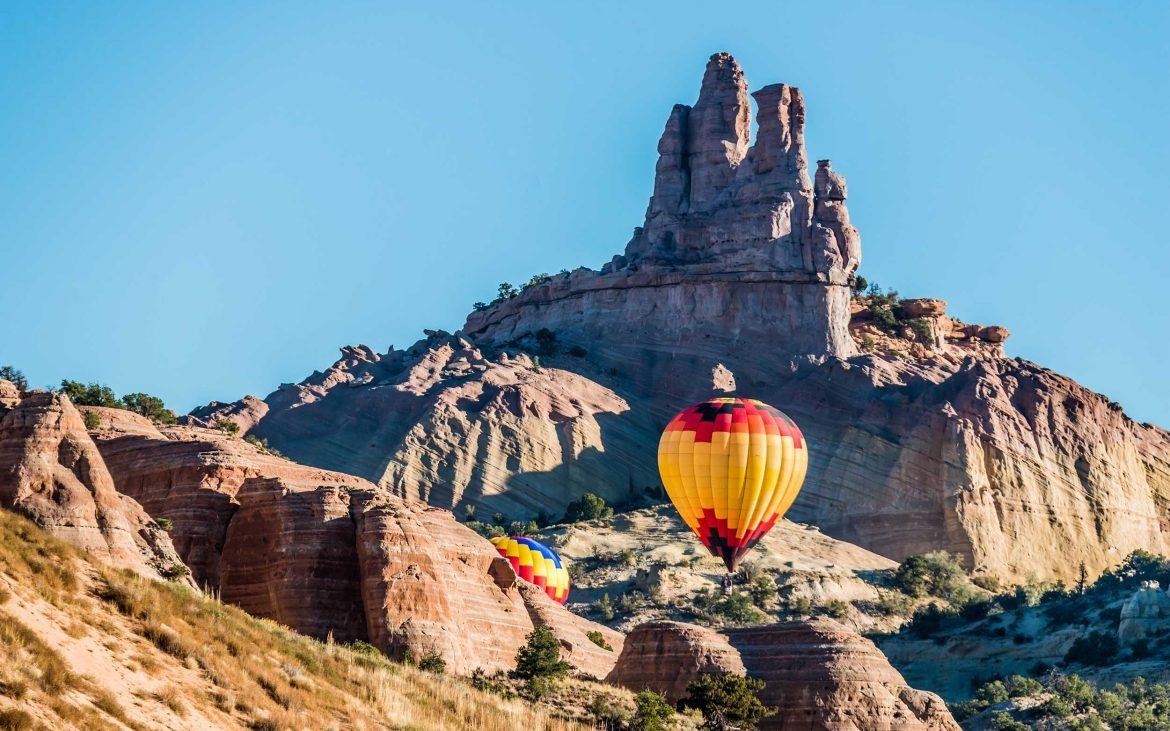 ---