Hunting and Fishing News & Blog Articles
Stay up-to-date on hunting, fishing and camping products, trends and news.
2 minutes reading time
(328 words)
Grizzly Mauls Hiker In Wyoming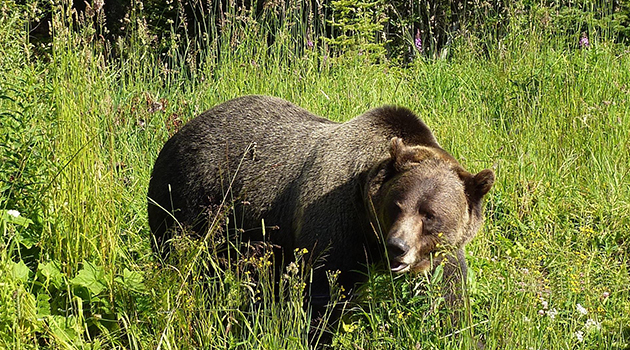 It's been a fairly quiet spring and early summer for grizzly bear incidents around Wyoming. In fact, a bit too quiet. (Not that maulings are a good thing) About the time those of us who recreate in grizz country start to possibly get a bit complacent we are jolted back to reality with an unfortunate incident like this mauling not far from the Eastmans' home base and in an area that is very popular with local recreationists. I have personally been on the exact peak where this incident took place. 
An unidentified non-resident hiker was life-flighted to a Billings hospital yesterday after surprising and then being mauled by a grizzly in the Francs Peak area south of Meeteetse, Wyoming. The hiker had zero chance of deploying bear spray or a firearm, a reminder that neither defense option is always feasible. 
Wyoming Game and Fish is investigating the incident but has no plans for management action at this time. 
As I stated in my opening paragraph. This incident is a solid reminder that grizzly bear encounters and altercations can happen anywhere in grizzly country and most often when we least expect them. Being prepared to defend oneself with bear spray and or a firearm is smart but as we've learned from this unfortunate mauling, deployment may not always be possible. That is why making noise and staying out of thick cover while moving through bear country is vital. 
All of us here at Eastmans' are praying for a full and speedy recovery for this unfortunate hiker and would like to remind everyone planning adventures in grizzly bear habitat to follow proper bear safety protocols and always be bear aware. We've included a link to some bear safety guides for your reference. 
https://www.fs.usda.gov/visit/know-before-you-go/bears
https://www.fws.gov/node/382566
Source Link:
https://oilcity.news/emergency/2022/06/28/hiker-injured-by-grizzly-in-wyoming-life-flighted-to-montana-hospital-game-and-fish-investigating/?utm_source=Oil+City+News+Daily+Digest&utm_campaign=c7b6f1c639-MailChimp+Daily+Digest&utm_medium=email&utm_term=0_3c37577534-c7b6f1c639-88004395
The post Grizzly Mauls Hiker In Wyoming appeared first on Eastmans' Official Blog | Mule Deer, Antelope, Elk Hunting and Bowhunting Magazine | Eastmans' Hunting Journals.
---