Hunting and Fishing News & Blog Articles
Stay up-to-date on hunting, fishing and camping products, trends and news.
6 minutes reading time
(1133 words)
5 Cookout Recipes for a Memorial Day Barbecue Blast
Feel the heat for memorial day barbecue flavor.
Campground chefs, start your grills! Memorial Day weekend signals the official start of barbecue season, and we want you to wield the tongs and spatula like a pro during your travels. That's why we've canvased our team of experienced camping bloggers for tried-and-true campground recipes. The results bring new flavors to those lazy summer campground gatherings. Bon appetit!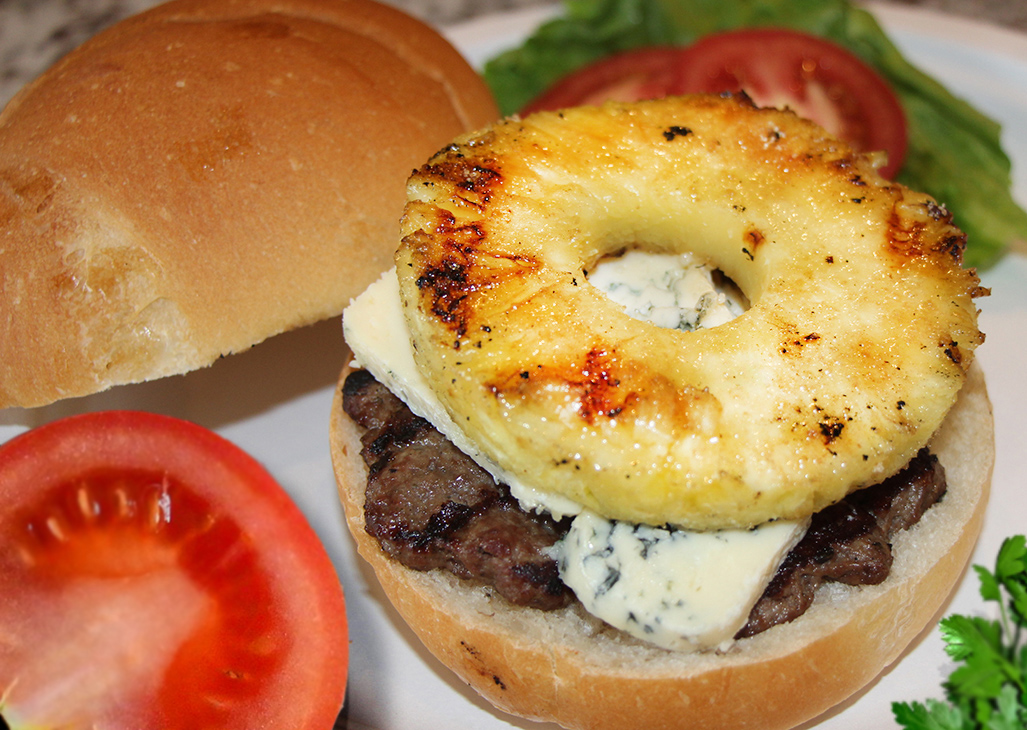 Blue Hawaiin Burger with all the trimming. Photo: Peter Mercer.
The Blue Hawaiian Burger
The Blue Hawaiian Burger combines distinctive flavors for the discerning campground palette. The sweet and tangy fruit of the fresh pineapple blends brilliantly with the smoky creaminess of the blue cheese to enhance the burger experience. The hint of mixed spices and a touch of brown sugar unite the combination of flavors for an easy-to-prepare gourmet delight.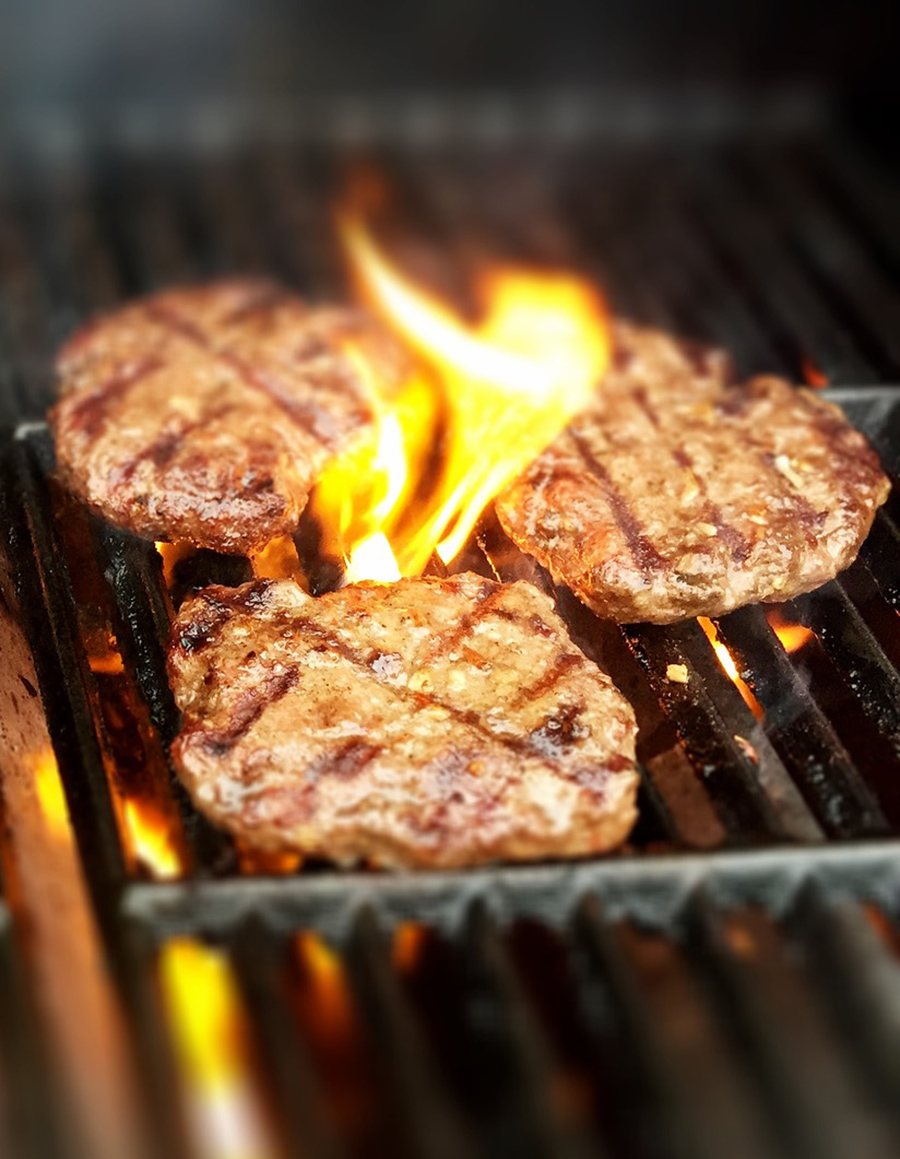 Burgers on an open fire. Image: Pexels
Ingredients
4 Hamburger Buns 1 pound ground Angus Beef ¾ teaspoon Garlic Powder ¾ teaspoon Onion Powder ¼ teaspoon Salt ¼ teaspoon ground Pepper 1/4 teaspoon dried Basil 1/8 teaspoon dried Oregano 8 ounces Blue Cheese, sliced thick 4 slices fresh Pineapple, 3/8 inch thick 2 Tablespoons Brown Sugar
Directions
Mix ground beef with garlic powder, onion powder, salt, pepper, basil, and oregano.  Divide into 4 portions and form into patties.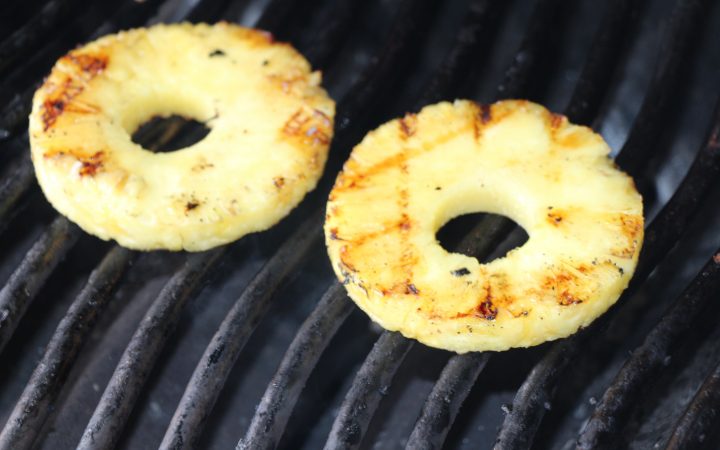 Blue Hawaiian Burger B.B.Q. Pineapple. Photo: Peter Mercer
Place the patties and pineapple on a hot BBQ grill. Cook burger to medium well, flipping as needed.  Cook pineapple until hot through, flipping to brown both sides with hot grill marks.
To assemble, place burger on the bun, top with slices of blue cheese then pineapple. Sprinkle brown sugar on the pineapple.  The heat from the burger and pineapple will melt the cheese to the perfect consistency.  Enjoy your Blue Hawaiian Burger! — Peter Mercer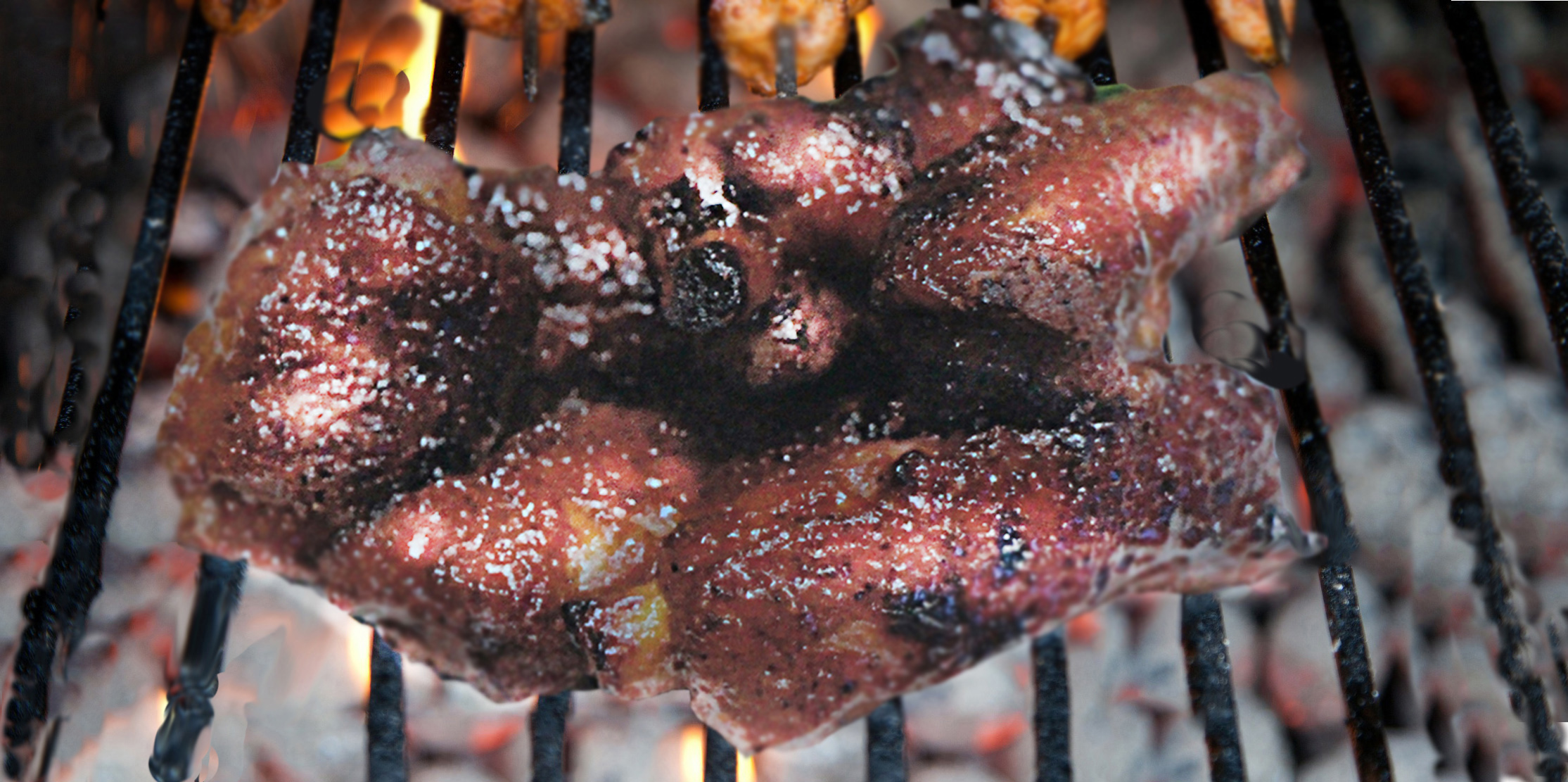 Brushed with barbecue sauce, a clutch of ribs cook on the grill. Photo by Peter Mercer.
Tennessee Bourbon Ribs
Ribs always taste best when cooked in your BBQ grill. But these are also great baked in the oven. If you take the oven choice, cut into individual ribs and finish by broiling 4 inches from heat the last 15 minutes. Any BBQ sauce of choice can be used. We prefer a less smoky tasty one, like Horne's or Tony Roma's original. We also use Jack Daniels or Jim Beam Bourbon.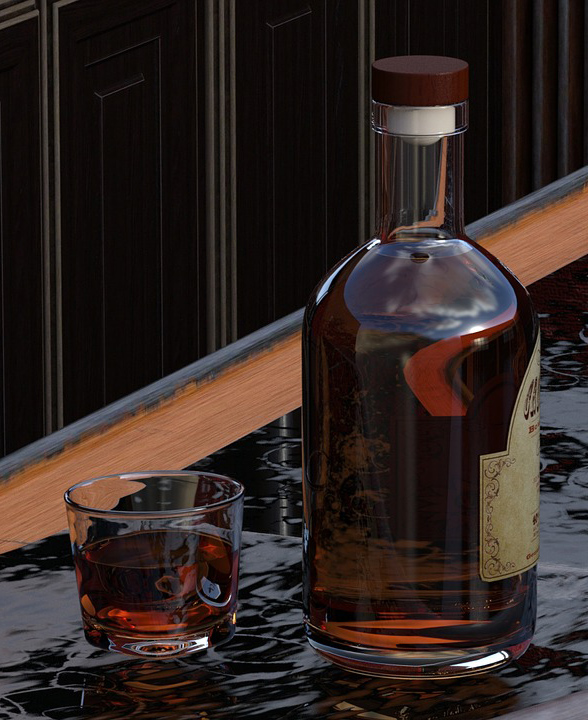 Bourbon is the secret ingredient to over-the-top barbecue flavor. Photo: Kalhh
Ingredients
3 pounds Pork Baby Back Ribs 2 Tablespoons Brown Sugar 1 Tablespoon Paprika 2 teaspoons Garlic Powder 1 1/2 teaspoons Black Pepper 1/2 cup Orange Juice 1 cup BBQ Sauce of choice 2 Tablespoons Bourbon
Directions
Turn on the BBQ and bring the temperature to 450 degrees. In a small bowl, combine brown sugar, paprika, garlic powder and black pepper. Cut the pork slab in half. Rub each slab on all sides with the sugar mixture.
Place each slab on a long sheet of heavy-duty aluminum foil. For both packets, bring up foil sides; double fold top and one end to seal. Add ¼-cup orange juice to each packet through the open end. Double-fold remaining ends, leaving room for heat to circulate inside. Place on the BBQ grill, close lid and cook for 50-60 minutes.
Mix the BBQ sauce and bourbon together. Remove ribs from foil, discard foil and juices. Place rib slabs on the grill, brush with sauce mixture. Grill for about 15 minutes, turning occasionally and brushing with remaining sauce. Good to the bone! — Peter Mercer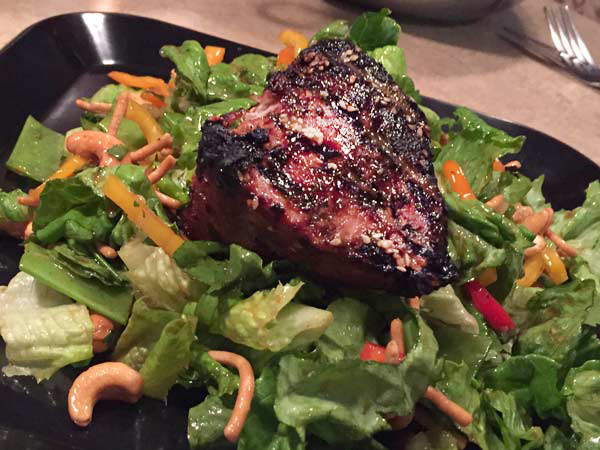 A grilled salmon steak sits atop a bed of greens, cashews and noodles. Photo: Rene Agredano.
Healthy and Light Tuna Delight
During a barbecue feast, all eyes focus on the sizzling grill. But in this case, the ingredients that await offstage deserve equal billing. Combining fresh-grilled tuna with leafy greens yields the barbecue taste combination you've been looking for.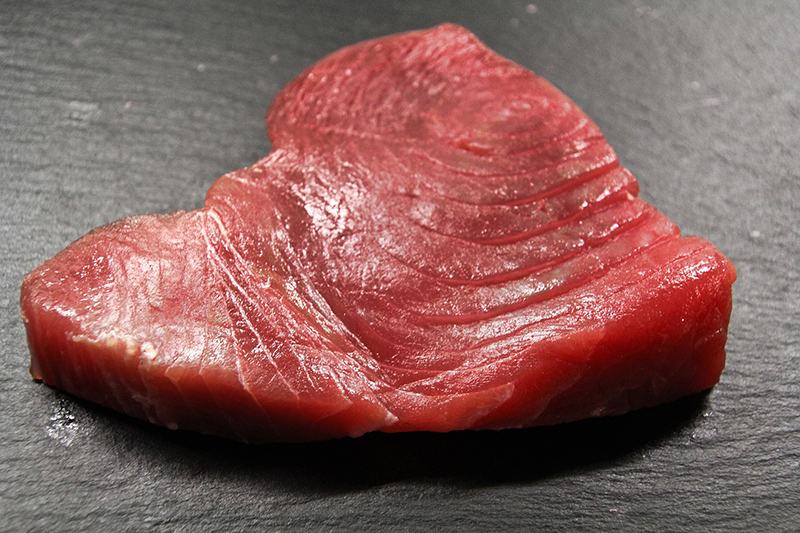 A cut of uncooked tuna steak. Photo: Reinhard Thrainer
Salad Ingredients
Chopped Romaine Shredded red cabbage Snow peas Chopped Cilantro Nori strips (Sushi wrap) Sliced sweet peppers Dry roasted cashews Crispy Chow Mein Noodles
Dressing Ingredients
pinch Allspice 1/2 tsp dry mustard mixed with 1 tsp water (or 1/4 tsp Wasabi) 1 tbsp soy sauce 2 tbsp Hoisin sauce 3 tbsp rice wine vinegar 2 tbsp sesame oil 3-5 tbsp grapeseed or vegetable oil 2 tbsp honey or agave
Salad Directions
Whisk dressing ingredients together
Toss salad and dressing
Tuna Steak Directions
Rub with sesame oil and soy sauce Place on the hot grill, until medium rare (1-2 minutes per side, per inch)
Plate salad. Top with grilled tuna steak. Garnish with sesame seed and crunchy noodles. Enjoy! — Rene Agredano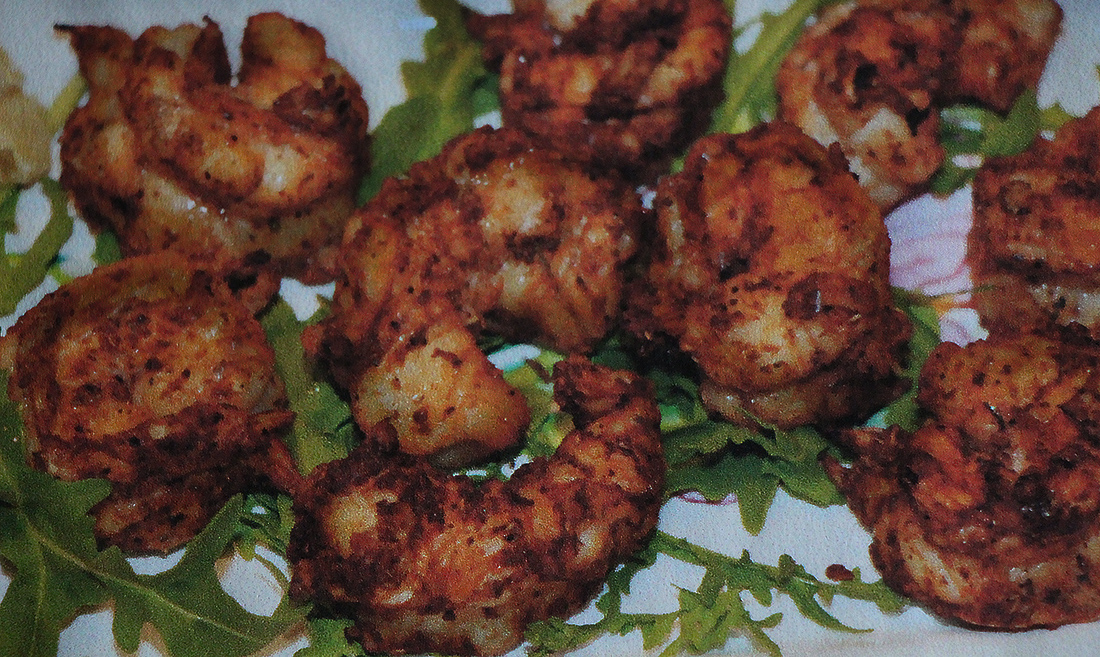 Spicy barbecued shrimp cool off on a bed of greens. Photo: Peter Mercer.
Spicy Shrimp
If you like spicy, you will love these. And cooking the shrimp in a grill basket is so easy – cook one side, flip the basket over. We always buy very large shrimp to BBQ for this meal. I use a quarter teaspoon of cayenne pepper, then we serve with a mango or pineapple salsa or a mayo-based dip to cool them down a bit.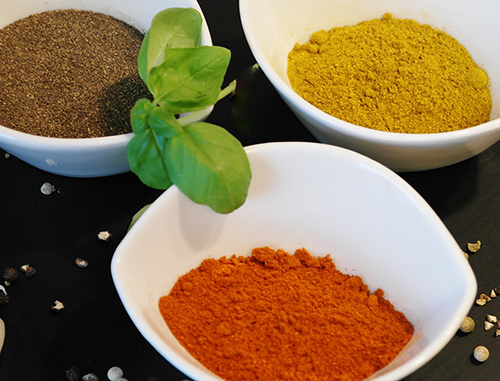 An array of spices for extra flavor. Photo: Rita E.
Ingredients
1 ½ teaspoons Paprika ½ teaspoon ground Black Pepper ½ teaspoon dried Thyme Leaves 1/8 to ¼ teaspoon Cayenne Pepper ½ teaspoon Salt 1 ¼ pounds large Shrimp
Directions
Peel and devein the shrimp, taking off the tail. Mix all the spices together in a large Ziplock bag. Throw in shrimp, seal and shake around to thoroughly coat.
Spray a grill basket with Pam. Lay the shrimp in a single layer in the basket and close. Place on the hot grill and cook until the shrimp are pink and cooked through, about 3 minutes on each side. — Peter Mercer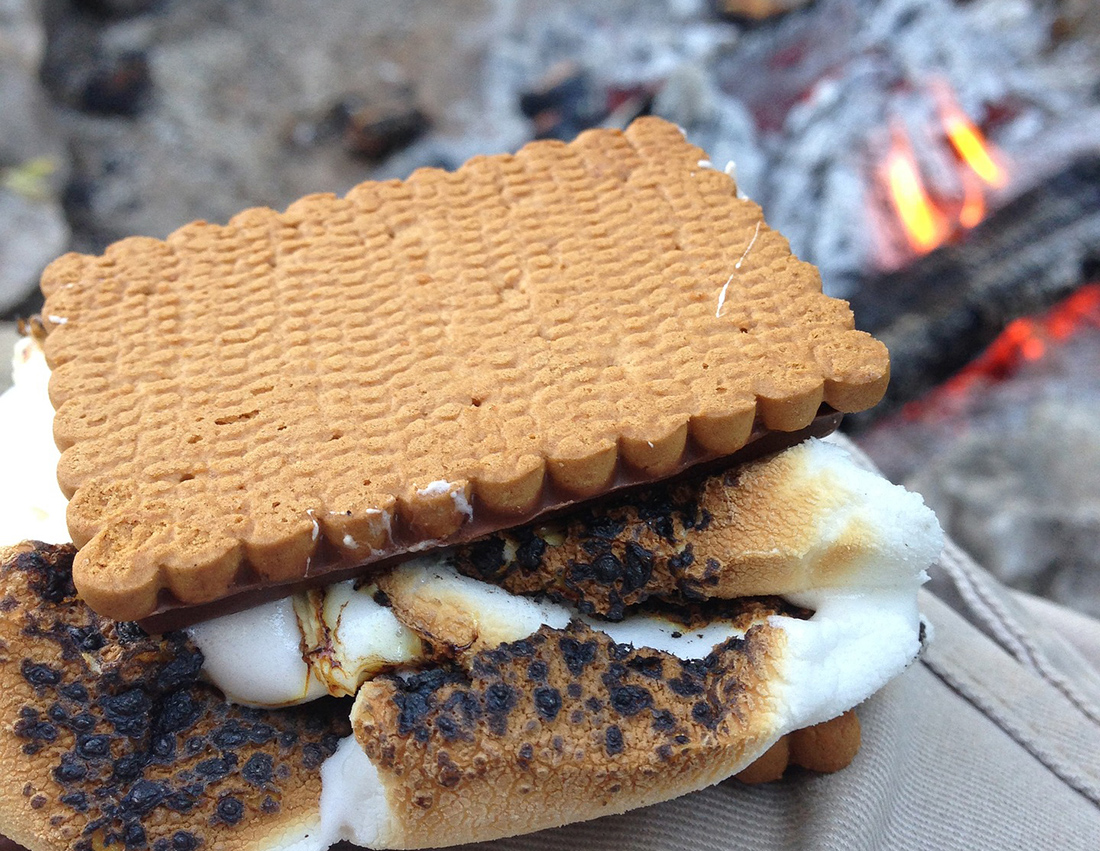 Molten marshmallow cools between two pieces of graham cracker. Photo: gwgladstone
Hunk o' Burnin' Love (aka the King)
Elvis Presley's love for peanut butter and banana sandwiches knew no bounds. In 1976, the superstar chartered a plane from Memphis to Denver for the Fool's Gold sammy served at the Colorado Mine Company (sadly, no longer in business).
Most of us can't afford to flag down a private jet for a sandwich, but we can do the next best thing around the campfire. Simply add a few new ingredients to the iconic smores recipe that has been a campfire staple for ages. Eat like Memphis royalty at your next camping trip (with some healthy fruit thrown in).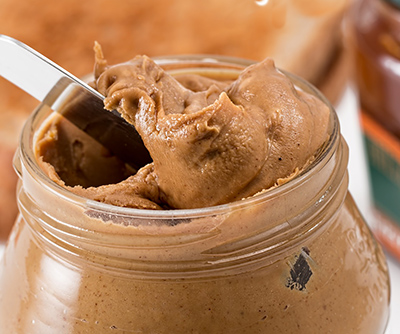 Use peanut butter to add flavors fit for the King of Rock 'n' Roll. Photo by Stevepb
Ingredients
1 Tablespoon peanut butter Marshmallows Skewers Graham crackers Banana
Directions
Place marshmallows and chunks of banana on a skewer. Roast until golden brown. Place on graham cracker smeared with peanut butter. Enjoy the flavor equivalent of the Tupelo Tornado. If you miss the classic smores flavor, add some chocolate and let the heat melt it into gooey goodness. — Cory Grant
The post 5 Cookout Recipes for a Memorial Day Barbecue Blast appeared first on Good Sam Camping Blog.
---