Hunting, Fishing and Camping
Social Network e-Marketplace
Connecting the Wildlife
Community Worldwide
Minimum Investment
$5,000
@ $1.00 per Preferred Stock Share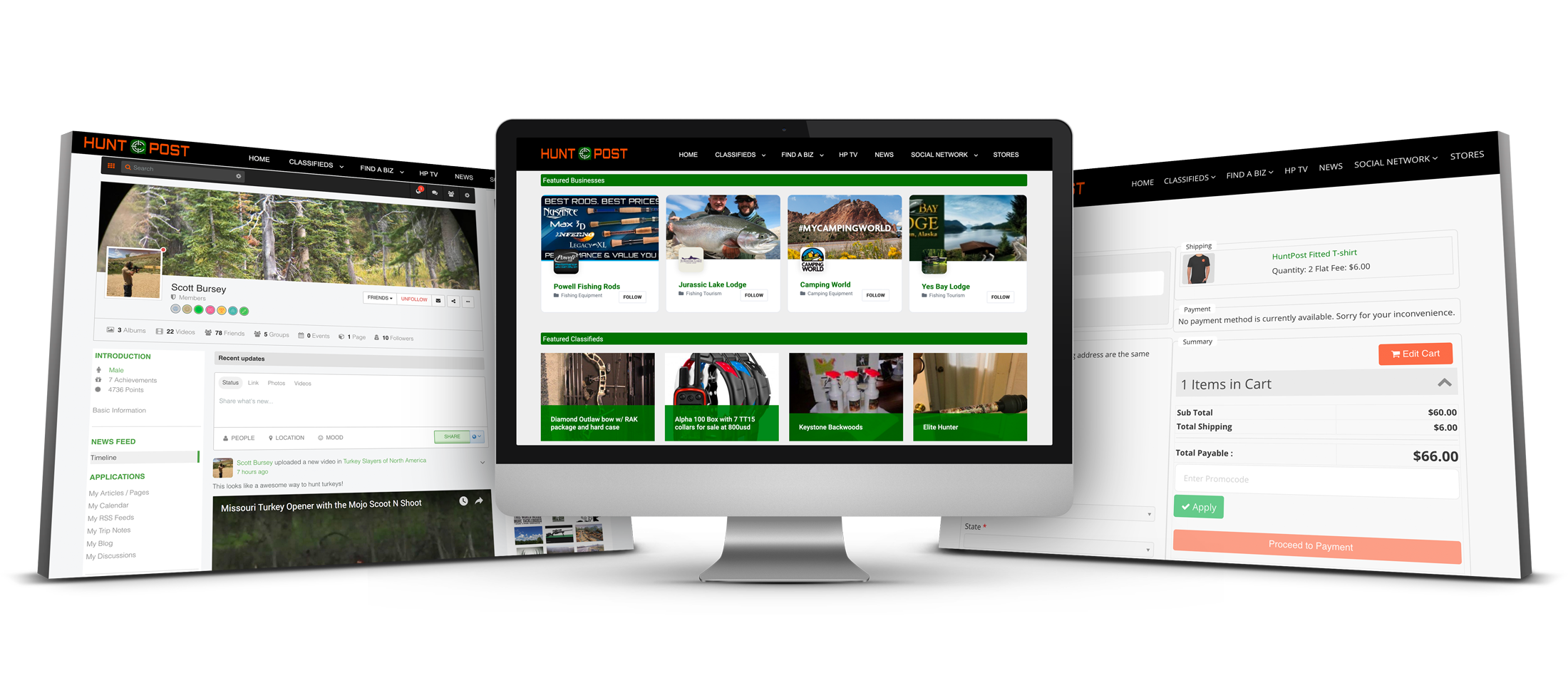 $10,000,000 Capital Raise
This offering of up to 10,000,000 preferred stock shares, sold through a Regulation D 506(c) offering, at ($1.00) per share.
Our Global Coverage
HuntPost is a global online social network and e-marketplace for the hunting, fishing and camping industry. It's home to a universe of special, extraordinary people and companies, all wildlife enthusiast who make spending time in the outdoors a central part of their lives.

At a time of immense white-noise that floods mainstream social networks each day, it is our mission to keep human connection and privacy at the heart of our networking platform. That's why we built HuntPost, a place where hunting, fishing and camping enthusiast can connect, share, learn, buy and sell the goods and services they need to make their life in the outdoors as enriching as possible.

We help our community of sellers turn their trade show focused businesses into successful "online retail businesses". Our platform connects them with millions of online buyers looking for an alternative to the low quality, mass production items that are found at big-box sporting goods stores.

Our Goal is to become a social networking version of Amazon for the Hunting, Fishing and Camping industry worldwide.  

Join us in changing the wildlife industry!
Industry Problems
The hunting, fishing and camping industry worldwide is largely under-served with social networking tools, an easy to use e-commerce platform designed for the way they do business, and digital advertising solutions that industry brands and associations can use to reach more consumers.  The result forces thousands of small retailers to depend solely on trade shows throughout the year to effectively reach and sell to their consumer.


Market opportunity:
Industry experts estimate 90% of hunting, fishing and camping products and services sold in the United States can only be found at trade shows through Mom and Pop retailers, with the remaining 10% available at Big-Box sporting good stores like Dick's Sporting Goods, Cabela's and Bass Pro Shops.



In 2019, e-commerce websites in the hunting and fishing industry are used by less than 10% of small business operators under the size of 9 employees (which represents 215K companies in the U.S.), and it is predicted to grow to over 60% by 2025 according to eMarketer.



In 2017, the U.S. outdoor recreation economy generated $887 Billion in consumer spending, 7.6 Million American Jobs, $65.3 Billion in Federal Income Tax Revenue, and $59.2 Billion in State and Local Tax Revenue.



Advertising of guns, knives and other weapons are not allowed to be advertised on Google, Facebook and other major social networks and advertising networks.



146.1 Million Americans ages 16 and over (or 44% of the U.S. population) participate in hunting, fishing, camping and outdoors activities each year, that total 11 Billion outing excursions.
Our Solutions
We provide a simple to use e-commerce and social networking platform for hunting, fishing and camping consumers and retailers  to connect online. Imagine combining Facebook and Amazon in a single platform specifically designed for the 100's of million's of hunting, fishing, camping and outdoor enthusiast that participate in a total of 11 billion excursions each year in the United States alone. 
We addressed the problems retailers face with the migration of their customer-base online, which is  foreign to many of them that have conducted business face-to-face with their customers for decades, at local and regional trade shows.
For these retail operators and the industry associations that have been dependent on reaching their audience at trade shows for the past many decades, a culmination of rapid customer migration online and the ramifications of the COVID-19 shutdown of all trade shows around the world for the remainder of 2020 has positioned HuntPost in a unique and time sensitive opportunity to come to their rescue.  
We do this by:
Increasing the online social networking presence for retailers, brands, and industry associations on the HuntPost social network, which is accessible in more than 120 countries worldwide.
Providing an industry specific e-commerce storefront platform that is built on an A.I. powered social network. Hunting, fishing and camping enthusiast connect, buy and sell with one another, while merchants can sell directly online through their HuntPost Storefront to our users.
Providing the millions of retailers, outfitters and associations worldwide, with the largest group of online consumers to sell their goods, services and memberships to.


Becoming the worlds largest aggregator of data analytics for hunting and fishing product trends and consumer behavior.
FORWARD-LOOKING STATEMENTS DISCLAIMER
This information does not constitute an offer to sell or a solicitation of an offer to buy securities or assets of HuntPost.com, Inc. All information presented herein with respect to the existing business and the historical operating results of HuntPost.com, Inc. and estimates and projections as to future operations are based on materials prepared by the management of HuntPost.com, Inc. and involve significant elements of subjective judgment and analysis which may or may not be correct. While the information provided herein is believed to be accurate and reliable, HuntPost.com, Inc. makes no representations or warranties, expressed or implied, as to the accuracy or completeness of such information. In furnishing this information, HuntPost.com, Inc. reserves the right to amend or replace some or all of the information herein at any time and undertakes no obligation to provide the recipient with access to any additional information.
No information on this website should be construed as any indication whatsoever of the Company's or HuntPost's future financial results, revenues or stock price. There are no assurances that the Company will successfully take HuntPost public or sell the brand, company or assets to another company. Nothing contained herein is or should be relied upon as a promise or representation as to the future. This information includes certain statements, estimates and projections provided by HuntPost.com, Inc. with respect to its anticipated future performance of HuntPost. Such statements, estimates and projections constitute forward-looking statements within the meaning of the federal securities laws.
These forward-looking statements are subject to known and unknown risks, uncertainties and other factors, which may cause actual results to be materially different from those contemplated by the forward-looking statements. HuntPost.com, Inc. undertakes no obligation to publicly update or revise any forward-looking statements, whether as a result of new information, future events or otherwise. The recipient of this information is cautioned not to place undue reliance on forward-looking statements. No representations or warranties are made as to the accuracy of such forward-looking statements or whether any of the projections included herein will be realized.
Financial Projections
CAUTIONARY ADVICE REGARDING FINANCIAL PROJECTIONS
The financial projections of (the "Projections") set forth herein constitute forward looking statements within the meaning of the Private Securities Litigation Reform Act of 1995. Our actual results, performance or achievements or industry standards may differ materially from those express or implied in in such forward-looking statements.
The forward-looking statements in the Projections are not guarantees of future results and are subject to the risks contained herein that could cause actual results to differ materially and adversely from those expressed in any forward-looking statements. As such, you are cautioned not to place undue reliance on such forward looking statements. The Company is under no obligation (and expressly disclaims any such obligation) to update or alter its forward-looking statements whether as a result of new information, future events or otherwise. All forward-looking included below are qualified in their entirety by this cautionary statement and the statements under "Important Information" below.
Important Information: The Projections and the underlying assumptions were prepared internally by the Company's management, and were not prepared with a view towards compliance with published SEC or the American Institute of Certified Public Accountants for preparation and presentation of financial forecasts or generally accepted accounting principles. No independent auditors or independent accountants, have compiled, examined or performed any procedures or review with respect to the Projections, nor have they expressed any opinion or given any form of assurance with respect to such information or its achievability.
Furthermore, the Projections are necessarily based on numerous variables, assumptions and estimates that are inherently uncertain, many of which are beyond the Company's control, including a wide variety of industry performance, general business, economic, regulatory, market and financial conditions, as well as matters specific to the Company's business.
The Projections should not be regarded as an indication that any of Company or its affiliates or management considered to be predictive of actual future events. Actual results will likely vary from the Projections, and such variations may be material. Neither the Company or its affiliates or management can give you any assurance that actual results will not differ materially from the Projections.

Investor Relations