If you are a new bow hunter and you walk into a bow shop or the bow section at a sporting goods store, the variety of bows on the wall can be intimidating. Usually, a shop has bows of all styles, sizes, colors, feature and part sets.
So where do you start?
What Is The Best Beginner Bow & Archery Style?
When you're just starting out as an archer you'll probably have a few questions about what beginner bow you need to buy and what style of archery you should try first. 
What is the best archery discipline for a beginner?
Target archery (either indoor or outdoor). It's the most popular, widely practiced and the best introduction to the other disciplines of the sport.
Targets come in all sizes and shapes from traditional bullseye targets to animals such as boars or bears to get you ready for a hunt. 
Rinehart Targets FX Foam Woodland Elk
​What's the best type of bow for a beginner?
​A recurve bow. As a total beginner, your strength and technique will develop to the point where you will want to try a higher power bow than the one you first started with. Using a compound will allow you to just adjust the power that suits you. For a recurve, you can buy different limbs for different power levels and don't need a whole new bow.
The recurve bow provides a lot more feedback for both the archer and the instructor meaning flaws in form and technique will almost always be more accessible to identify. Conversely, the compound bow has the effect of concealing minor (and sometimes major) flaws in drawing technique and execution mainly when a release mechanism is employed. 
The concepts and skills learned while using a recurve are unique, but a student becomes more aware of motor skill and control in a shorter time frame. In the end, if they choose to shoot a compound bow, they will be a superior archer compared to someone who learns on a compound.
Beginners who are just trying out the sport might be better going with a recurve (in fact, most archery ranges allow shooters to rent a bow, which means you don't have to drop the money on the bow if you're not interested), as they are cheaper and easier to use. Recurves are also good for muscle training; some of the best ways to get fit come in the form of recreation, and consistently shooting.
---
In A Hurry?
Here's a quick look at our Top Recurve Bows for Beginners! Be sure to keep reading for our detailed reviews and buyer's guide!
Why is Target Archery Best for Beginners?
The best place to start in archery is either indoor or outdoor target Archery. It is the most popular style and is practiced at differing distances dependent on skill level. Because target archery is both and indoor and an outdoor sport you'll find it available year-round and undoubtedly one or both will be available at your local archery club.
Other disciplines of archery such as Run, Ski, Flight, Field, Target, 3D and even Bowhunting all involve shooting at a target of some description just in different circumstances, so learning the basics with a stationary indoor or outdoor target first is a great place to start.
The Olympic games discipline is target archery, and also the World Archery Championships so if you have aspirations to be a champion one day, you may as well start off on the right foot!
---
RECURVE BOW BUYER'S GUIDE
Before purchasing a recurve bow, it can be helpful to consider factors including:
What a recurve bow is
Buying considerations you should take into account
Different recurve bow components
RECURVE BOWS
There are two types of recurve bows; namely, one-piece recurve bows that consist of a single piece of material, and takedown recurve bows comprised of three parts: a riser, and two limbs.
DRAW WEIGHT
Draw weight is measured in pounds and refers to the force you have to apply to draw a bowstring back and shoot an arrow. The heavier a bow's draw weight, the more energy is transferred to the arrow, and the more powerful the shot.
Draw weight is also a crucial consideration as it determines the use of your bow.
For bow hunting, you generally need a minimum draw weight of 40 pounds. Also, not all beginners have the skills and strength to use a bow with a high draw weight of 50 or 60 pounds.
As a beginner, select a lower draw weight of 20 or 30 pounds. As your archery skills improve, you can increase the draw weight.
DRAW LENGTH
Draw length is a measurement that you need to determine the most appropriate bow length.
To find your draw length, stand upright, and stretch your arms out until they are parallel to the ground. Then, measure the distance between your fingertips and divide the answer by 2.5.
BOW WEIGHT
Bow weight is the weight of the bow itself and is an essential consideration for beginners. When you position yourself, draw the bowstring back, and aim at your target, you have to hold the bow for a long time. If it is too heavy, it can affect your archery technique and accuracy.
Most beginners can comfortably hold and carry a bow that weighs less than 3.5 pounds.
HAND ORIENTATION
If you are right-handed, you hold the bow with your right hand and draw with your left. If you are left-handed, you hold the bow with your right hand and draw with your left.
When shopping for a recurve bow, remember to consider your hand orientation. Most are available as left- and right-handed models and some have risers with ambidextrous designs to accommodate both left- and right-handed archers.
However, some bows are only suitable to either left- or right-handed archers. If you are left-handed, for example, you will not be able to use a bow that has a right-hand design.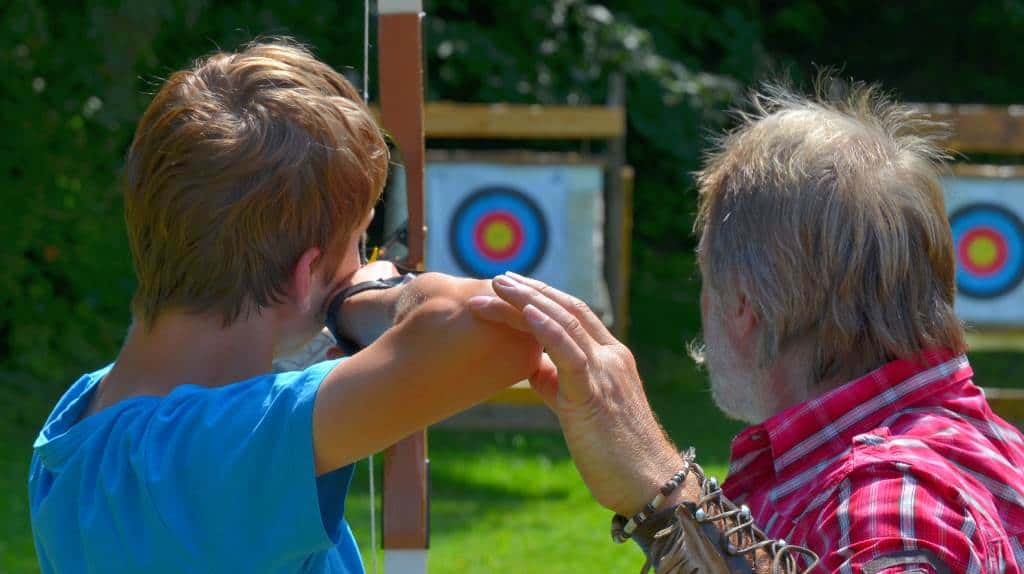 RECURVE BOW COMPONENTS
When researching the best beginner recurve bows, you will stumble upon terms that may sound unfamiliar. Despite their simplistic design, recurve bows consist of several components. Below, we will discuss the most common parts of a recurve bow.
RISER
A riser is the center part of the bow that you hold when drawing. Risers can be made of metal or wood. Recurve bows with wooden risers are generally more affordable, and they tend to be more visually appealing.
The riser is a component where you attach most additional accessories, for example, a stabilizer, quiver, or a bow fishing reel. You can also attach a sight to the riser to enhance your aim. Some risers will be fitted with an arrow rest to help you achieve a stable draw and release.
The design of the riser is what determines the hand orientation. Some risers have grooves that take the form of a left or right hand. If you grip these risers with the wrong hand, it can be uncomfortable.
BOWSTRING
Bowstring quality is crucial if you are a competitive archer or hunter. However, if you are a beginner, the string included with your bow will likely be sufficient for your needs. As your skills improve and you reach an intermediate level, you can consider replacing your existing bowstring for a high-quality one.
TAKEDOWN LIMBS
A takedown bow is the recommended recurve bow type for beginners. The limbs determine the draw weight, so if you have a bow with removable limbs, you can increase the draw weight without replacing your bow.
For example, if you are a beginner archer, you may prefer an instrument with a relatively low draw weight of 25 pounds. As you develop your skills and strength, you may want to start hunting or partake in competitive archery. With a takedown bow, you can remove the limbs and replace them with new limbs to increase the bow's draw weight to 40 pounds.
A takedown model is also advantageous for storage and transportation as you can remove the bows and place them next to each other.
BUDGET
Beginner archers typically don't know how much they should spend on a new recurve bow. As a beginner, you may not know essential factors, including:
If the sport is for you
How long you will be using it before you will want an upgrade
How long an affordable bow will last without sustaining damage
As a general rule, stick to models at the lower end of the price range. Fortunately, there are many high-quality units available in the affordable price range. Additionally, if you select a takedown bow, you are not limited in terms of draw range.
Focusing on quality and durable construction instead of extras like stabilizers or professional-grade bowstring can help you find a long-lasting bow without breaking the bank. You can always add expensive accessories as your archery skills improve. The items in our product review list are all durable models.
---
Top Recurve Bows For Beginners
(No Particular Order)
Easton Youth Beginner Recurve Bow Kit
If you're looking for a beginner recurve for your child, we like the Easton Youth Beginner Recurve Bow Kit.
Easton has been building archery equipment since 1922, and that experience is built into a high quality recurve bow for long-lasting fun. The bow features a lightweight, slim, polymer technology riser and durable glass-reinforced limbs.
It's manufactured for kids age 8 and up, and it's sized just about right: it's a 52-inch bow, and it can be drawn up to 26 inches (which translates roughly to a child up to 5-foot-5-inches tall), and it's got a low draw weight, between 10 and 20 pounds—just about what a child would be able to pull.
It also includes a number of the items you'd need to get started, including three arrows, a hip quiver, three arrows fitted for the bow, an arm guard, and a finger tab, and it's got an ambidextrous design, so it's good for both right-handed kids and left-handed kids.
Features:
Ambidextrous design for either right or left-handed archers
Integrated sight channel
Custom Dacron string
Ambidextrous arrow rest and sight pin included
High-strength glass/polymer limbs and advanced polymer riser
Ideal beginner draw weight range 10-20 pounds
Max 26" draw
Available in bow only and kit configurations
Made in the USA
Includes: bow, quiver, three arrows, sight, finger protector, and armguard
---
Whether you're a beginner or a seasoned veteran, this recurve has something to offer you. It works wonderfully for teaching the basics of archery, and the durability of the bow is best in class. There is no worry about limb twist with the Jaguar Elite, as long as you care for it properly, so you can be assured of learning proper form and technique without being frustrated by missed shots caused by string damage or twisted limbs.
Depending on which limbs you purchase, your Martin Archery Jaguar Elite will have a draw weight of 29lbs to 55lbs, in 5-pound increments. With its 7-inch brace height, the bow is perfect for maintaining excellent accuracy, but the power will depend greatly on what draw weight you choose.
The great news is that you can replace the limbs independently of the riser, so you can allow the bow to grow as your strength improves.
Accuracy with the Jaguar Elite is nothing short of amazing. The bow performs as well as recurves that are much more expensive, and I was easily laying down 2″ patterns from 40 yards away. I was amazed when the original Jaguar performed almost as well as bows twice as expensive, and I can't help but think that Martin has even improved on that with the Jaguar Elite.
The only real complaints I have with the bow are the arrow rest and the Thermal V protective dampening grip on the riser. The arrow rest is cheap plastic and wears easily, and the Thermal V protective dampening grip has a tendency to flake and peel off after rigorous usage.
Features:
Draw weights in lbs: 29-55
Brace height in inches: 7
Weight: 2.6 lbs
AMO Length: 60
Max Draw: 30
Riser: Metal – Aluminum
Limbs: Laminated Wood & Black Fiberglass
Price: Low
R/L Handed: Right hand Only
Comes With:
Riser
Limbs
String
Bow Stringer
Brass Riser Inserts
---
This versatile, lightweight bow is a functional blend of both new and existing technology and features premium traditional finishes!
The Aspen takedown recurve bow has a draw weight of 45lbs, is 60-inches in length, and has a draw length of 29.
The riser is blended from African Cherry Rose, White Oak, Mape, and Green-Wood for a traditional, high-quality finish. The Bow can be broken down and reassembled in minutes, making it the perfect choice for backpacking or traveling. 
"The Aspen is a joy to shoot as the 18" riser melts into your hand for a custom feel," says Kevin Casey, Assistant Product Manager. "This bow will find its home either on the range or a field in a hunting scenario. The Aspen has brought back memories to the beginning of my archery journey:
The Aspen features limbs made from a dual Maple core with black fiberglass facing and backing for durability and velocity. It also includes a 14 strand AMO 62" B-50 Dacron string.
Features:
African Cherry Rose, White Oak, Maple, and Greenwood Riser for a traditional look
Dual Maple core limbs with black fiberglass facing/backing for maximum durability
Takedown style can be broken down and reassembled in just minutes
14 strand AMO 62" B-50 Dacron string
45-lb. draw weight
29" draw length
60"l. overall
Includes Stringer, Rest, Finger Tab, and Nock Set
---
October Mountain Adventure 2.0
Assembling this bow can be tricky for a beginner because there are no instructions included. If you're just getting started in archery, have it assembled for you and make sure to get direction on how to take the bow down for storage.
If you're an experienced archer, on the other hand, assembly of the bow is just like any other takedown: attach the limbs to the riser and string the bow. October Mountain doesn't include a bow stringer, but they do provide a Dacron string. Use a stringer to save yourself time and energy, as well as prolong the life of your string.
If someone knowledgeable assembles the bow, it is suitable for beginners. The October Mountain Adventure 2.0 comes in a variety of lengths, and October Mountain sells replacement limb kits. This allows youth to start off with this bow and, as they grow, just replace the limbs and keep using the same bow into adulthood.
As always, the power of the bow depends on the string. October Mountain sells the Adventure 2.0 in draw weights from 20lbs to 34lbs, making it good for target shooting but unacceptable for bow hunting. The reinforced limb tips should allow for stringing the bow with a stronger string, though, so you might be able to use the Adventure 2.0 for hunting.
October Mountain's Adventure 2.0 is constructed of a multi-laminated ash riser with hardwood maple and white fiberglass laminated limbs. The limb pockets on the Adventure 2.0 are machined aluminum, and the limb tips are reinforced and multi-laminated.
While the October Mountain Adventure 2.0 is value-priced, it is not cheaply made. In fact, it is very well constructed and attractive and will provide years of smooth shooting.
Features:
Three-piece take-down design for easy storage
Equipped with sight, plunger and stabilizer bushings
Slim grip design
Recommended brace height: 48-inch model (5 1/2″ to 6″), 54-inch model (6 1/2″ to 7″), 62-inch model (7″ to 7 1/2″), 68-inch model (8″ to 8 1/2″)
---
October Mountain Mountaineer 2.0
Putting the Mountaineer 2.0 together is straightforward, but you will have some decisions to make before you start. The first decision will be whether to use the toolless limb bolts or the standard limb bolts. Assuming your hands are strong enough to properly tighten the limb bolts, I would go with the toolless limb bolts.
The next decision is which string to use, the normal Dacron or the Dacron Flemish Twist string.
Once the decisions are made, assembling the bow is simple and easy. Unfortunately, the bow does not come with a bow stringer, so make sure to have one on-hand when it's time to assemble the bow.
The OMP Mountaineer 2.0 is a 62" bow available for right- and left-handed shooters in five draw weights: 35lbs, 40lbs, 45lbs, 50lbs, and 55lbs. Even the lightest draw weight is almost powerful enough for deer, and the most powerful of the Mountaineer 2.0 lineup should be able to take deer, elk, or even black bear.
Once properly set up and tuned, the Mountaineer 2.0 is a tack driver - any accuracy problems are caused by the archer, not the bow.
Since the OMP Mountaineer 2.0 is so inexpensive and well made, it would definitely suit a beginner archer well. Even though the bow is designed as a hunting bow, its accuracy and forgiving nature will put even the greenest archer at ease as he or she begins to learn the craft.
The Mountaineer 2.0 came with both a standard Dacron bowstring and a Dacron Flemish twist bowstring. The reinforced limb tips will allow you to use just about any string you might want, as long as it's the correct length for the bow.
Features:
Three-piece take-down recurve bow design for easy storage
Equipped with sight, plunger and stabilizer bushings
Slim-grip design
Reinforced limb tips offer Fast Flight string compatibility
Dacron string, flathead, and tool-less limb bolts included
Recommended brace height: 7 1/2″ to 8 1/4″
---
Final Thoughts...
If you've made it this far, congratulations! You know the basics of recurve-bow buying, you've got an idea of your options for best recurve bow for beginners, and you've learned quite a bit in a fairly short amount of time.
Stay tuned to our Blog Page as we'll continue to bring you quality, knowledgeable content and dive deeper into the world of Archery! Next Up: Compound Bows For Beginners!
Be sure to check out Falco Outdoors to shop these products listed, plus much more! Use coupon code 5OFFRECURVE for an additional discount at check out for these products listed!