Hunting and Fishing News & Blog Articles
Stay up-to-date on hunting, fishing and camping products, trends and news.
4 minutes reading time
(888 words)
Mule Deer vs. Whitetail – Wyoming To Split Tags?
Disclaimer: This is a personal article written by Jaden Bales and is not a reflection of any views, beliefs, or perspectives of the Wyoming Wildlife Federation.
The Wyoming Wildlife Taskforce is a year into tackling the Cowboy State's thorniest wildlife management issues. When they meet monthly in Casper, you can be sure there will be controversial topics discussed, like the 90/10 allocation change for the Big 5 species, and making the Big 5 once-in-a-lifetime. However, at the April Wildlife Taskforce meeting, the members did agree to something that held wider support; to recommend a split in mule deer and whitetail deer licenses.
What does this mean?
First, it's important to understand the current situation with deer licenses. Currently, all pricing and tag types for deer are controlled by one license – a deer license as set in law. Early in the creation of Wyoming's game and fish department, there were very few whitetail deer, save for the northeast corner of the state.
As a result, all regulations have been built around this singular license with sub-types created by the WGFD and separate general seasons with bag limits like, "antlered mule deer or any whitetail deer." As of 2022's regulations, there are 15 hunt areas with general hunting opportunities for mule deer and an additional any-whitetail deer season that usually runs Nov. 1-30 with a rifle. Additionally, there are 61 different type-3 any whitetail licenses and type-8 doe/fawn whitetail licenses totaling 16,275 specific whitetail licenses given out by the Wyoming Game and Fish Department.
As a resident of Wyoming, I regularly hold a general deer license, a type-3 any whitetail license, and two type-8 whitetail doe/fawn licenses in my pocket. I even was able to kill a whitetail doe a few hundred yards behind my house with my bow last September just a few days before taking a mule deer buck with my general archery tag.
Whitetail and mule deer numbers have been managed separately with these methods up to this point, so what did the Wildlife Taskforce wish to accomplish?
Proponents of the split suggest there are ways to diversify whitetail deer hunting opportunities and increase harvest with this method of splitting tags. While the WGFD could make an additional general whitetail deer season active with their current Commission power, this recommendation directs and empowers WGFD's Commission to dig into it further. Potentially, WGFD could expand seasons for whitetails, or create an all-new general whitetail deer license altogether. WGFD could also charge a different price for a whitetail deer license and reduce prices to further incentivize hunters carrying around a whitetail deer license in their pocket for that incidental run-in.
"This idea seems like a positive change from my perspective," says Eastmans' own Guy Eastman. "This would afford the Game and Fish Department the ability to manage the mule deer and white-tailed deer more specifically and possibly increase revenue in the process."
Those opposed to splitting the licenses suggest it will result in fewer people using their general deer license on a whitetail if they are split. A bowhunter from Sheridan, Tom Hurley, suggests people who only have a mule deer tag may shoot any legal mule deer instead of waiting to go to an area with whitetail opportunity later in the fall. This is possible in areas 23, 26, and many others in the northeast corner.
"I snuck into a few mule deer last fall but just was waiting for a big deer. Then, I shot a whitetail in November on that same license to fill the freezer. If I had a mule deer-only tag, I would have shot one of them." 
Step one, however, will be for the Legislature to pass a bill next session to allow the WGFD to create a separate license for mule deer and whitetail deer. Draft language was brought forth to the Travel, Wildlife, Recreation, and Cultural Resources Committee Meeting in early May. The language amends the definition of "big game animal" to separately specify mule deer and white-tailed deer, while also creating a definition of "deer" that means both mule deer or white-tailed deer. It also gives the WGFD the authority to make more changes to the way licenses are divvied up, but it's not mandated. 
The half-dozen sportsmen who attended the meeting in May and added public comments were unanimously opposed to the draft language and recommendation. The mule deer and whitetail deer split language was not voted on during the TRW Interim Committee Meeting for introduction. 
You can read the language draft here >> 
This is the memo explaining the language >> 
In my personal opinion, this bill can support WGFD's expansion of hunting seasons using the current tag types and general hunting structure, or the WGF Commission could create a whole new system. Only time and public input will tell which direction they will take it, but luckily we can all agree on one thing – Wyoming's whitetail populations are doing well and make great table fare. We just might see some more chances to put them in our freezer in the near future.
What do you think? Mix it up or stay the same?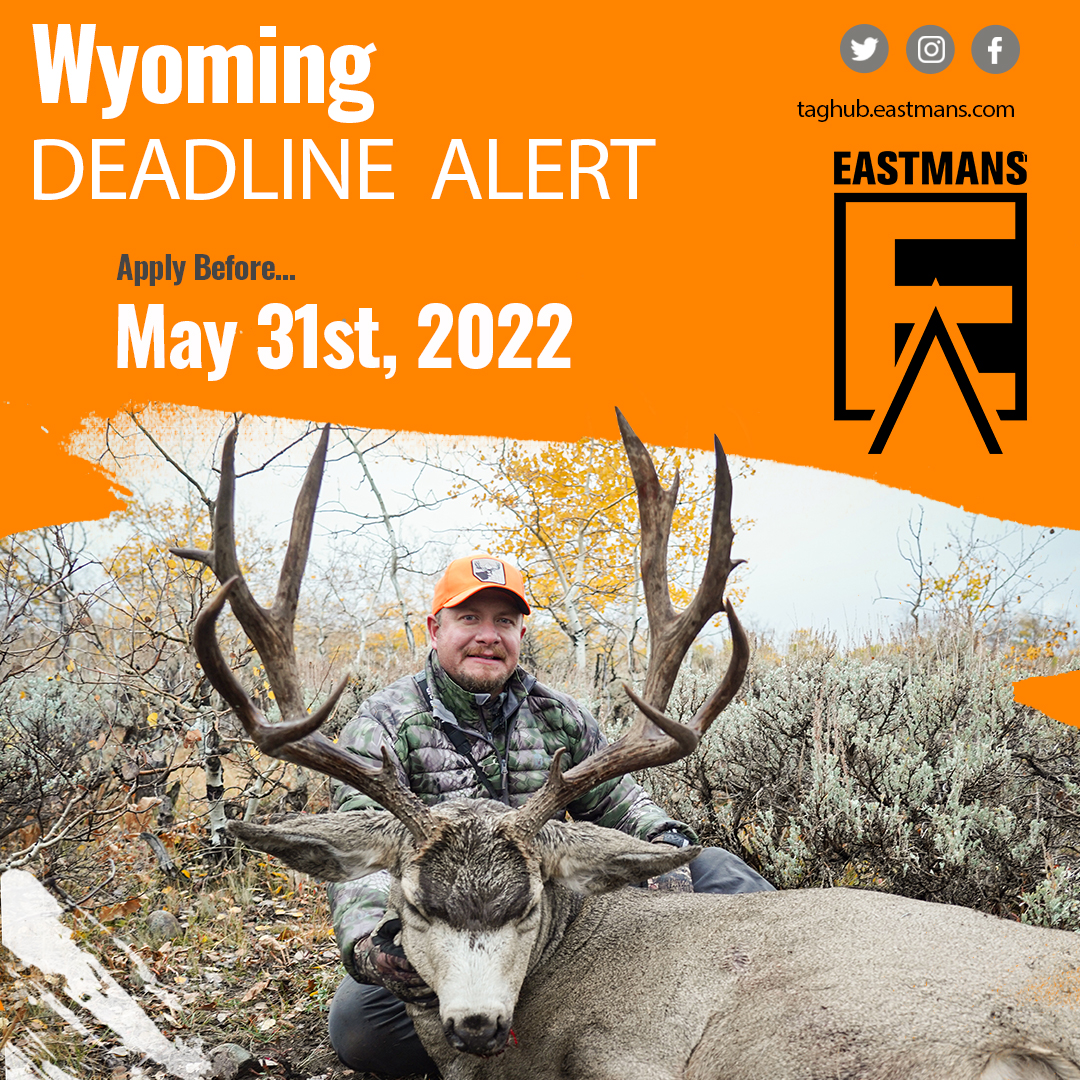 The post Mule Deer vs. Whitetail – Wyoming To Split Tags? appeared first on Eastmans' Official Blog | Mule Deer, Antelope, Elk Hunting and Bowhunting Magazine | Eastmans' Hunting Journals.
---