Hunting and Fishing News & Blog Articles
Stay up-to-date on hunting, fishing and camping products, trends and news.
2 minutes reading time
(319 words)
Missoula Elk Herds In Trouble?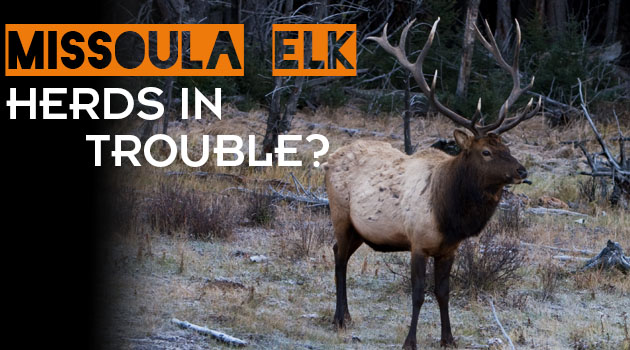 Missoula, Montana area biologist Liz Bradley is noticing that elk herds around the suburban areas of the city have been in decline for the past three years with a total of 216 animals being lost from one of her counted herds just this Spring. This decline begs questions… is it due to too much pressure from predators, both four-legged and two or is the lack of elk simply a result of the animals seeking "greener pastures" due to these open lands being suburban in nature and therefore exposed to elevated levels of human encroachment throughout the year?
Another disturbing trend Bradley is recording is that along with the decline in numbers she is also noticing the remaining elk are having fewer calves, thus impacting recruitment numbers for the herd. This fact also begs impact questions as healthy, unpressured elk herds presumably do not suffer this issue.
FWP is not committing to resolute answers just yet but Bradley's stance on handling the decline is apparent in this statement penned by Missoula Current reporter Laura Lundquist… "FWP is still committed to maintaining Missoula's suburban herd, Bradley said, and the only thing she can do is control the human contribution to decline." Lundquist, L. (2019, May 31). Missoula-area elk herds show dramatic population decline. Missoula Current. https://missoulacurrent.com/outdoors/2019/05/missoula-elk/
What say you? Do you think that the decline in these herds is due to solid harvest numbers for this hunt the past couple of seasons? Is it predator impact? Or could the paucity of elk in this area simply be that the animals have moved to more lightly recreated habitat? Time to chime in and let us know where you stand and while you're at it, maybe give MTFWP in Missoula a holler as well.
The post Missoula Elk Herds In Trouble? appeared first on Eastmans' Official Blog | Mule Deer, Antelope, Elk Hunting and Bowhunting Magazine | Eastmans' Hunting Journals.
---