Hunting and Fishing News & Blog Articles
Stay up-to-date on hunting, fishing and camping products, trends and news.
3 minutes reading time
(520 words)
EXHIBITOR SPOTLIGHT: FANEEMA CUTLERY
The 2019 Christmas Gift + Hobby Show is your source for holiday gift ideas and inspiration. Join us November 6-10 at the Fairgrounds to shop hundreds of vendors, including Faneema Cutlery. Before you visit them in Booth #433, enjoy our brief interview below and get a sneak peek at some of the goodies they'll be bringing to the show.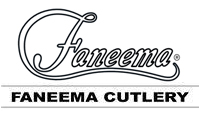 Please describe your products.
"We create hand-forged unique Damascus chef and kitchen knives with high quality steel and beautiful handles made from natural, renewable materials sourced from a variety of countries. We also make Damascus knives for every outdoor activity and large collectible knives."
What are your best tips for the holiday season?
"Create lovely memories with family and friends cooking at home. Familiar holiday foods are so comforting. The holidays can be stressful with so much to do, but it is the most wonderful time of the year which should be spent enjoying each other, wonderful food and all the decorations."
What are your featured items this season?
"We are showcasing our new steak knife sets especially designed for this show. Our kitchen knife sets will be featured at special prices."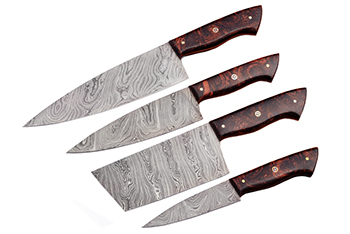 What's your favorite part about being in the Christmas Gift + Hobby Show?
"Meeting and talking with people. Finding out their holiday traditions and wishes. If our product can make their life easier and bring fun and joy to cooking...that is our favorite part of being in the show. Our knives also make wonderful gifts that are unique and can't be found in any store."
What's your best holiday shopping advice?
"What makes your heart sing with joy? That is what you purchase. You will always love it, use it and it will always make you happy. For loved ones, practical gifts are nice, but finding that unique item just for them will make their heart sing with joy."
What's your favorite Christmas movie?
"I've been watching It's A Wonderful Life every year since I was a young girl, so that is quite a while now. I watched with my father and now continue the tradition in his honor. A Christmas Story has to be a close second. It always makes me laugh. These movies are on while I'm cooking, putting up decorations, setting a Christmas table and welcoming family into our home. Pure joy."
Is there anything else you think folks should know about your business?
"Faneema Cutlery is a family business. We all work together to bring you beautiful Damascus knives at a reasonable price. Damascus is hand-forged so no two blades are alike. Each knife is a work of art that will last years and years. We are focused on our customers' happiness with our product. We are available at all times with answers to questions and information. We guarantee our product 100%."
The Christmas Gift + Hobby Show will be filling the Indiana State Fairgrounds with hundreds of unique vendors, like Faneema Cutlery, November 6-10. Don't miss your chance to get a jump on your holiday shopping and enjoy the sights and sounds of the season. We can't wait to see you at the show!
---